Back to News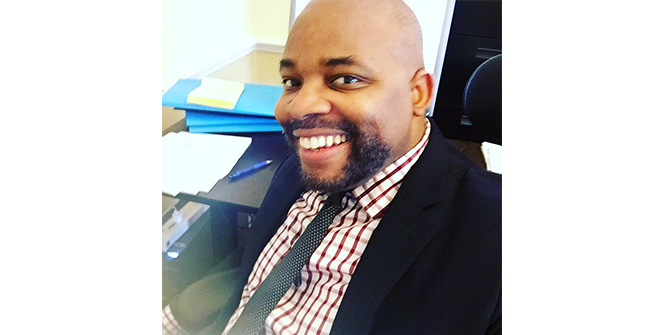 Bringing Best Practices to Ensure Equity
November 1, 2019
URA HR Director Columbus Brooks Leads with Best Practices

Since joining the URA over three years ago, Human Resources Director Columbus Brooks has changed the organization's workplace culture to be more equitable, brought in diverse talent and provided opportunities for staff to learn the importance of equity, especially in their work serving Pittsburgh communities.

From the outset, Brooks knew that the URA was looking to do something different from what the culture had been. During his interview for the HR position, then Executive Director Robert Rubinstein asked Columbus how the URA could reach a more diverse pool of candidates to fill job openings. From then on, his interest was piqued.

Brooks was hired in May 2016 and immediately implemented a formal HR Department, something the URA had lacked, to ensure best practices in the workplace.

"When I arrived, the first thing I noticed was that most of the key decision-makers were white males and I thought, 'we really need to have some diversity.' I was the only African American person at the table at that time, as a manager, and I just started showing up to the Directors Meetings. I don't even know if I was invited, I just started going," says Brooks.

He joined the URA's Equity Working Group, and helped the members to incorporate diversity, social justice and inclusion into the URA's internal and external practices and policies to ensure opportunities were provided for all of Pittsburgh's residents.

Brooks began looking at the culture from an inside perspective and asked a lot of questions. He talked with directors, managers, and staff about how they viewed their workplace. Through this he produced an HR audit and found that there was a need for women empowerment, and that minorities and women weren't in key leadership positions. That set the stage for him to do a deeper dive into the work needed to create change.

His next step was to introduce a recruitment strategy. In 2016, he implemented Rooney Rule hiring practices, meaning minority candidates must be included in an organization's interview process before a position is filled. He also implemented an internal/external strategy for posting jobs and acquiring a more diverse pool of qualified candidates. He sat in on interviews, trained management on best interviewing and hiring practices, and provided the tools necessary to create a more diverse workplace.

Brooks was recognized for providing these types of Human Resources best practices and Human Resources strategies by the Pittsburgh Business Times HR Leadership Awards in 2010.

"When you have diversity, it changes the bottom line. And creating this internal face of the URA means that when our staff goes out to the communities, the communities know that there's diverse staff representing and making decisions on their behalf."

After questioning the lack of women and minorities in key decision-making positions, Brooks worked with URA leadership to reevaluate and change the employee review and promotion process.

"Equity is also about women and minorities having voices at the table, and not just the word 'manager' on paper," says Brooks.

"Columbus is the epitome of a transformational leader. When I arrived at the agency in 2017, there were hardly any women or minorities in the agency with considerable decision-making authority, despite the demographical composition of the neighborhoods we serve," says URA Deputy Director Diamonte Walker. "His keen understanding of strategic HR and commitment to racial and gender equity have been integral to my becoming the first African American woman to serve as Deputy Director in the agency's 74-year history."

"What I'm really proud of is when we walk into the Directors Meeting and everyone is represented. One time I told Robert (then Executive Director), to 'Look at our table,' and Robert smiled. I said 'Look, we accomplished this,'" says Brooks.

Brooks had the URA bring in Exstare Federal Services Group to produce an MWBE Program report on the agency. Through that report came the recommendation to hire an MWBE professional. Diamonte Walker was originally hired as the URA's MWBE Program Officer in June 2017 and created a strong MWBE Program to advance the growth, development, and success of minority and women-owned firms in Pittsburgh.

As a result of these new HR practices, more minorities and women were hired and promoted between 2017 and 2018. He admits, the URA is now the most diverse place he's worked.

"I am thoroughly enjoying watching the diverse intergenerational staff interact and learn from each other. To me, that's equity and it's my favorite thing to see every day here," says Brooks.

Brooks followed Exstare's recommendation to hire an Equity and Inclusion Coordinator. Maya Fews came to the URA through the Pulse Program to coordinate the development, implementation, and measurement of the URA's diversity, equity and inclusion efforts.

Exstare also conducted a Racial Equity Assessment by surveying staff, holding focus groups, and talking to Pittsburgh residents. The final report was published in July 2018 and Brooks began implementing the recommendations. This included three major trainings for URA staff: Implicit Bias, Personal and Social Identity, and Structural Racism.

In 2018, he also recommended URA staff join the Government Alliance on Race and Equity (GARE), a national network of government working to achieve racial equity and advance opportunities for all.

"Being a part of GARE has given us the tools to place racial equity at the forefront of our thinking and creates additional opportunities to collaborate with the City and the County on advancing racial equity," says Fews.

Today, the URA is a more diverse and equitable organization than in the past, largely in part because of Brooks.

"The agency owes him a debt of gratitude for helping to make the URA a better place to work for all," says Walker.

In addition to new internal practices, the creation and implementation of such programs as the Micro-Enterprise Loan and the Housing Opportunity Fund are helping to advance inclusion in the City of Pittsburgh's growth.

Brooks plans to continue to provide education, conduct follow up assessments, administer previous trainings for new hires and refresher courses for current employees, and bring in new trainings for staff. Within a year or so, the URA hopes to do a benchmark assessment from 2017.