View All Projects
Columbus Square
Columbus Square is a proposed multi-phased 31 unit new construction single family residential development located in the Manchester neighborhood.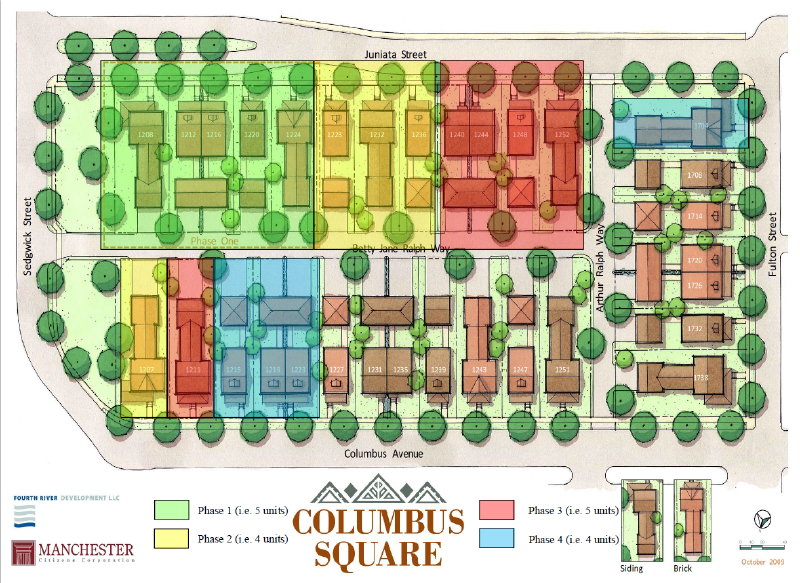 Redeveloped
31
Units Financed
2M
Dollars
Manchester - Between Columbus Avenue, Juniata, Fulton, and Sedgwick Streets.
Columbus Square is a residential, for-sale housing development built on a remediated brownfield site in the Manchester neighborhood of the Northside.
Background
The development is located on a 4.3-acre brownfield site which formerly housed the Thomas & Betts metal stamping factory.The brownfield site was remediated in the mid 2000s.
Development
Based on the 2009 Manchester Neighborhood Plan, 31 units of new market-rate for-sale homes are planned to be developed at Columbus Square between Columbus Avenue and Juniata Street.
14 units were completed in the first three phases and another four units are currently under construction in Phase IV. Sales prices range from the low $200,000s to the high $300,000s.
Facts
Developer: Manchester Citizens Corporation
Contractor: Residential Development & Construction, Inc.
Architect: Devlin Architecture
URA Financing: Approximately $2,000,000
The newly constructed homes at Columbus Square serve as a complement to the ongoing rehabilitation of several scattered site buildings in the neighborhood.