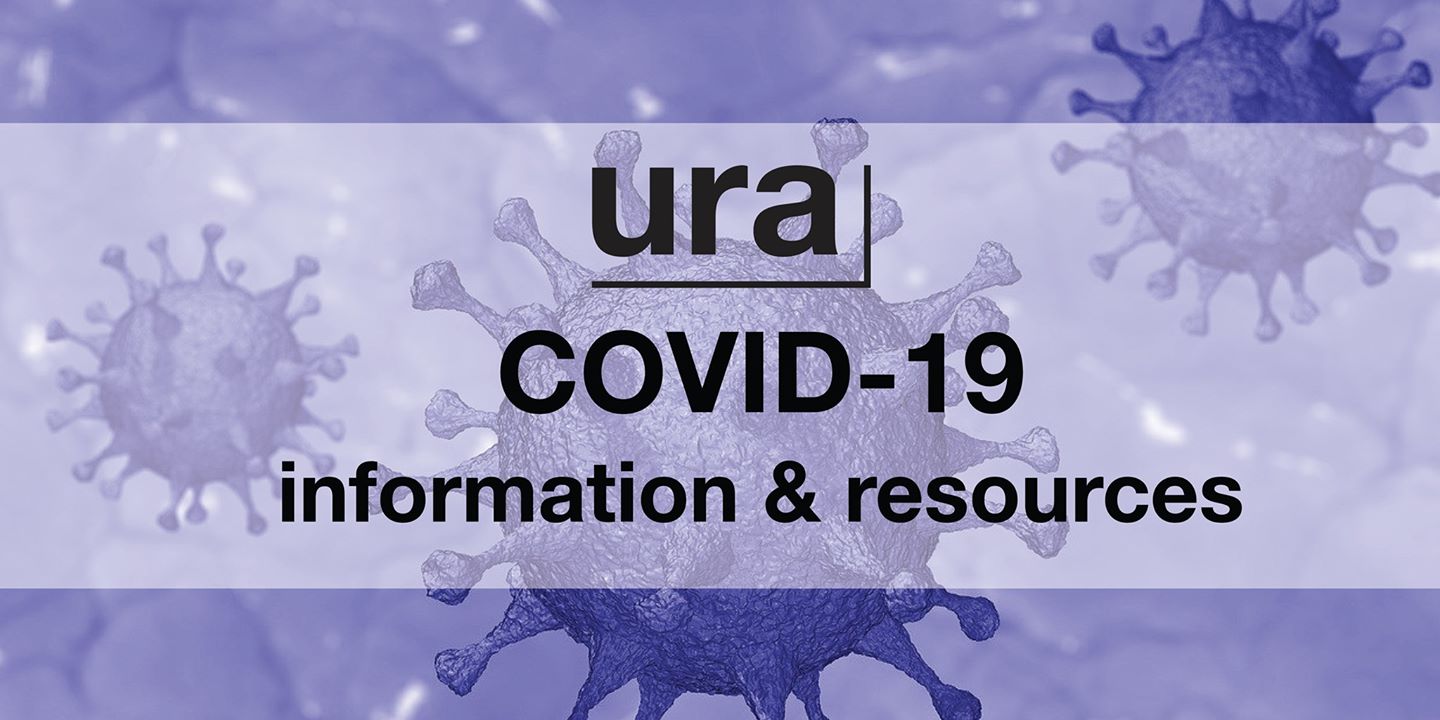 Updates from the URA during this time
The URA will continue to meet the needs of City of Pittsburgh residents and businesses during the outbreak of COVID-19. We are following proper precautions for our employees and the public. We realize this pandemic will deeply challenge the lives of our clients, communities and economy, and will do everything we can to help our neighbors.
Message from Greg Flisram, Executive Director of the URA, on COVID-19 Impact
Out of concern for the health and wellness of our employees in light of the COVID-19 pandemic, and in support of effective social distancing measures as advised by the Centers for Disease Control and Mayor Peduto's Executive Order, the URA will be implementing virtual work procedures beginning Monday, March 16, through Tuesday, March 31, 2020.
Although the 412 Blvd. of the Allies office building is closed to the public and our employees will be working remotely, I want to be clear that essential URA functions will remain fully operational. We have established a work-from-home protocol for all divisions to ensure the needs of URA borrowers and partners are met. URA staff will be online, phone calls received will be forwarded, and meetings will be conducted remotely as necessary.
Stay in touch with the URA
Until further notice, and in best interest of public health, the URA will be offering its consumer programs and services virtually.
Due to the COVID-19 pandemic, the URA has extended the closure of its physical offices to the public for an additional 30 days. URA employees are currently working remotely. The agency remains fully operational, but we ask for your understanding if response times are slower than normal.
Staff will be online, phone calls will be forwarded, and meetings will be conducted remotely as necessary.
Please check back for updates.


Contact
General:
412.255.6600
COVID19Info@ura.org


Housing:
412.255.6574


Businesses:
412.255.6669


Follow us on social
Sign up for our eNewsletter
Cancelled/Rescheduled Events
In compliance with City of Pittsburgh protocals prohibiting public gatherings of 50 or more people, the following URA-hosted events have been cancelled:
Let's Talk Business: Northside Edition - March 11


EMPOW(HER) Women's History Month Networking Event - March 27


Building CapaCITY: A Real Estate Networking Event - April 7
The following URA-hosted event has been rescheduled:
April Regular Board Meeting - Virtual - April 16
April Virtual Board Meeting Info
The URA's April Regular Board Meeting has been rescheduled to Thursday, April 16, at 2:00 p.m. Out of concern for the health and wellness of the public, our Board Members, and our employees, this meeting will be call-in and web-based only.
Public comment related to items on the agenda will be accepted through Thursday, April 16 at 1:00 p.m. and can be submitted through a soon-to-be posted form on the Board Meeting page. Any comments received by Thursday, April 16 at 1:00 will be made a part of the record and the minutes for this meeting.
Information to access the virtual meeting will be posted at a later date.
Resources for Businesses
URA Small Business Emergency Financing Resource
URA Borrowers
"The URA recognizes the potential hardships and needs small businesses are facing and may face due to COVID-19. We want to reassure our small business borrowers that we are here to work with you. If you have a loan from the URA and need to seek relief, please contact us - we are here to help," - Tom Link, URA's director of the Center for Innovation and Entrepreneurship


The URA is taking the following steps to help mitigate the unprecedented potential ramifications of COVID-19:
---

Non-URA Borrowers
COVID-19 Small Business Assistance Loan Program
The URA is temporarily easing and streamlining its Micro-Enterprise Loan Program to support up to 30, 0% loans for small businesses that are not currently URA borrowers. Details:
Given potential high demand for this program, the URA will make every effort to underwrite and approve applications as quickly as possible.


COVID-19 Working Capital Assistance Program - this program is now closed
The URA, through its affiliate Pittsburgh Economic Industrial Development Corporation (PEIDC), is administering the PA Industrial Development Authority's (PIDA) COVID-19 Working Capital Assistance Program to eligible City of Pittsburgh businesses.
This program supplies 0% loans for up to $100,000 for working capital expenditures to businesses negatively impacted by the COVID-19 pandemic. Anyone interested in the program should view the application and guidelines here.


---

Additional Resources for Pittsburgh's small business community
We will continue to update this list as resources become available.


Programs
Paycheck Protection Program - NEW! Open april 3
The SBA Paycheck Protection Program (PPP) is designed to provide a direct incentive for small businesses to keep their workers on payroll by providing each small business a loan up to $10 million for payroll and certain other expenses. If all employees are kept on payroll for eight weeks, SBA will forgive the portion of the loans used for payroll, rent, mortgage interest, or utilities. Up to 100 percent of the loan is forgivable.
Economic Injury Disaster Loan
The U.S. Small Business Administration (SBA) is providing low-interest Economic Injury Disaster Loans to qualified Pennsylvanian small businesses experiencing economic injury as a result of the coronavirus. These loans may be used to pay fixed debts, payroll, accounts payable and other bills that can't be paid because of the COVID-19 impact.
Express Bridge Loan Pilot Program
The SBA Express Bridge Loan Pilot Program provides up to $25,000 for survival and/or reopening of business during or immediately following COVID-19 crisis.


CORONAVIRUS FINANCIAL BRIDGE LOAN PROGRAM
Hebrew Free Loan Association of Pittsburgh has announced a Coronavirus Financial Bridge Loan Program to provide interest-free loans on a nonsectarian basis for up to $5,000 to residents of Allegheny, Beaver, Butler, Westmoreland, Washington, and Armstrong counties who are facing financial challenges caused by the Coronavirus/COVID-19 outbreak.


Honeycomb Relief Loan program
Honeycomb Credit is offering the Honeycomb Relief Loan program to small businesses affected by the coronavirus. These loans up to $50,000 will offer a 45-day payment free period and a six-month interest-only period. Honeycomb is also streamlining its diligence process, accelerating the speed that it launches campaigns onto its platform, and reducing fees across the board.


Kiva Loans
The Kiva Pittsburgh program at Riverside Center for Innovation (RCI) helps business owners to apply for and crowdfund 0% interest loans with Kiva.org. During the COVID-19 outbreak, loans can be as much as $15,000 with a 6-month grace period. Find links to more information, local assistance with your application, and the online application on the RCI website.


Emergency Action Fund
The Pittsburgh Foundation is providing funding to nonprofit organizations facing immediate and long-term impacts of COVID-19 through the Emergency Action Fund. You can find the grant criteria and application, opening April 1, 2020, here.


Facebook Small Business Grants Program
Facebook has a Small Business Grants Program that offers $100M in cash grants and ad credits to help during the outbreak of COVID-19.
Guides and Resources Lists
Partner Pages and Additional Resources
Please take notice of additional notifications and resources.
How You Can Help
Support Small Businesses
Support the Arts Community
You can donate to the Emergency Fund for Artists fundraiser which is raising money for local performers and artists who have lost income due to the cancellation of tours, gigs, and jobs in the nightlife and events industry.
We understand the many challenges our neighbors are facing right now and are committed to meeting the needs of residents and businesses. Have a question or concern related to COVID-19?
We're here to help.