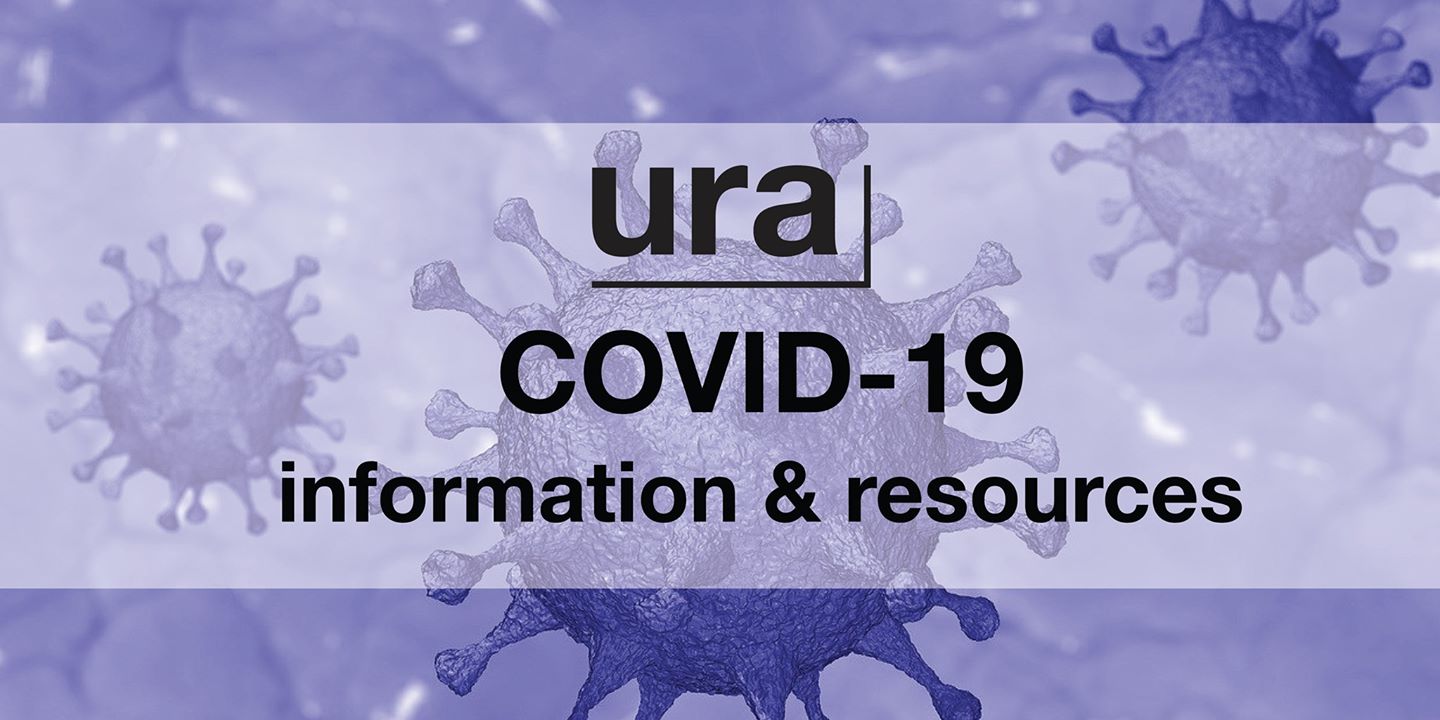 Updates from the URA during this time
The URA will continue to meet the needs of City of Pittsburgh residents and businesses during the outbreak of COVID-19. We are following proper precautions for our employees and the public. We realize this pandemic will deeply challenge the lives of our clients, communities and economy, and will do everything we can to help our neighbors.
Message from Greg Flisram, Executive Director of the URA
Out of concern for the health and wellness of our employees in light of the COVID-19 pandemic, and in support of effective social distancing measures as advised by the Centers for Disease Control and Mayor Peduto's Executive Order, the URA will be implementing virtual work procedures beginning Monday, March 16, through Tuesday, March 31, 2020.
Although the 412 Blvd. of the Allies office building is closed to the public and our employees will be working remotely, I want to be clear that essential URA functions will remain fully operational. We have established a work-from-home protocol for all divisions to ensure the needs of URA borrowers and partners are met. URA staff will be online, phone calls received will be forwarded, and meetings will be conducted remotely as necessary.
Stay in touch with the URA
Until further notice, and in best interest of public health, the URA will be offering its consumer programs and services virtually.
Due to the COVID-19 pandemic, the URA has extended the closure of its physical offices to the public through April 30. URA employees are currently working remotely. The agency remains fully operational, but we ask for your understanding if response times are slower than normal.
Staff will be online, phone calls will be forwarded, and meetings will be conducted remotely as necessary.
Please check back for updates.


Contact
General:
412.255.6600
COVID19Info@ura.org


Housing:
412.255.6574


Businesses:
412.255.6669


Follow us on social
Sign up for our eNewsletter
COVID-19 Impact
The URA is committed to continue assisting Pittsburgh residents and businesses during COVID-19. Below are some of the ways we have been helping our neighbors to-date.
Small Business Emergency Loan Fund (ELF)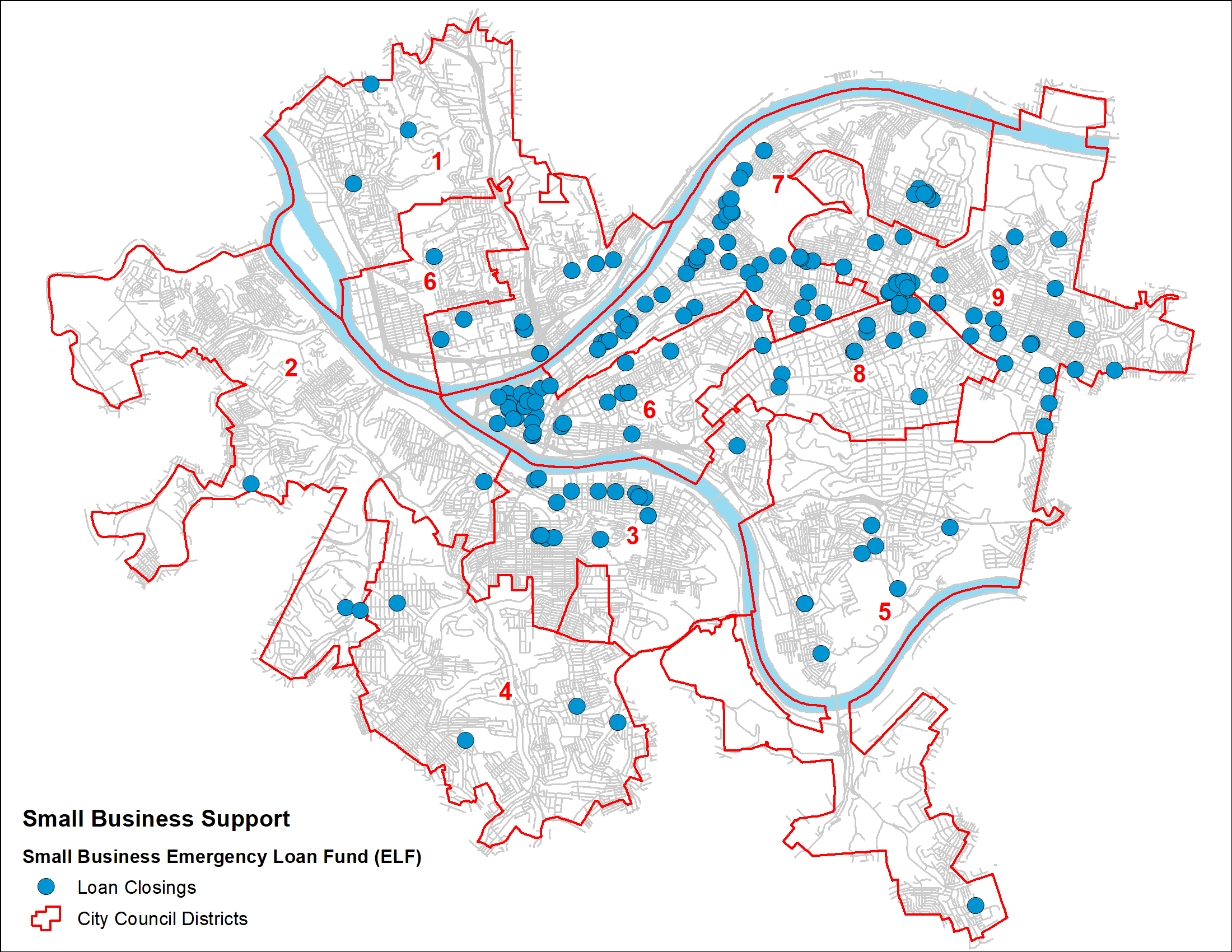 Resources for Businesses
Featured Resources
Recovery Loans
The Recovery Loan Fund assists in mitigating the COVID-19 economic impact, and helps small businesses stabilize in the face of these uncertain economic times.
Loan Amount: Up to $75,000
Interest Rate: 0% for first year, 2% for balance of loan term
Deferral Period: 1 year
Length of Loan: 7 years
Fees: None
---
Tools for the Transition
This resource page is for businesses looking for information regarding funding, regulatory adjustments, innovations and other resources. Learn more about getting online, incentivizing gift card purchases, and utilizing outdoor spaces.
---
Paid Sick Days Act
Effective March 15, the City of Pittsburgh is requiring all businesses to provide employees with Paid Sick Time notice.
---
Green Phase Outdoor Operations
In order to support safe and robust economic activity with physical distancing, the City of Pittsburgh is developing a program to utilize the public rights of way for outdoor commercial operations. The Department is in the process of creating an application, permitting process, and guidelines to request modified sidewalk, parking lane, and street space.
If your business is interested in starting outdoor operations in the Green Phase, please submit as much information as you can provide in this "Street Modification for Outdoor Operations Interest Form."
---
URA Small Business Emergency Financing Resource
---
Loyalty Bonds
The URA and Honeycomb Credit partnered to create the Pittsburgh Loyalty Bonds program, a new way for local businesses to smooth out cash flow and engage your customers.
Loyalty Bonds allow you to sell gift cards at a discount right now and gives your customer more reasons to return to your business for years to come. The first 100 Pittsburgh businesses to be accepted into this program will get $0 setup fees and $300 from the URA when you reach your goal.
---
Ready Pittsburgh: A Toolbox for Reopening
Ready Pittsburgh is a toolkit for organizations that contains best practice protocols and guides for various industries as the Pittsburgh region moves to the yellow phase of reopening.


---
COVID-19: Strategies for Commercial Property Owners & Tenants to Avoid Rent Forbearance Disputes
NAIOP Pittsburgh and the URA developed a guide for property owners and tenants to help in avoiding commercial lease disputes during COVID-19. ---
Financial and Technical Assistance
COVID-19 Small Business Fund
The COVID-19 outbreak has affected small businesses across Pittsburgh. In response to this, the URA created the COVID-19 Small Business Funds, which include Emergency Loans and Recovery Loans. The funds will assist in mitigating the COVID-19 economic impact, and help small businesses stabilize in the face of these uncertain economic times.
---
Get Online Grow Online (GOGO) Small Business Program
*Application period closed May 5, 2020
Learn how to market and sell your products and services online with up to 5 hours of free technical assistance while connecting with similar businesses!
The URA, in partnership with Neighborhood Allies, launched a program to aid businesses in implementing new, creative ways to reach their customers.
The ideal candidate for the GOGO Small Business Program….
Is already an existing business
Has less than 15 employees
Can be categorized as a retail (including personal services) or food/beverage business
Is located in: the City of Pittsburgh, Wilkinsburg, Sharpsburg, Millvale, Etna, Mckees Rocks, or Mt. Oliver.
Download Flyer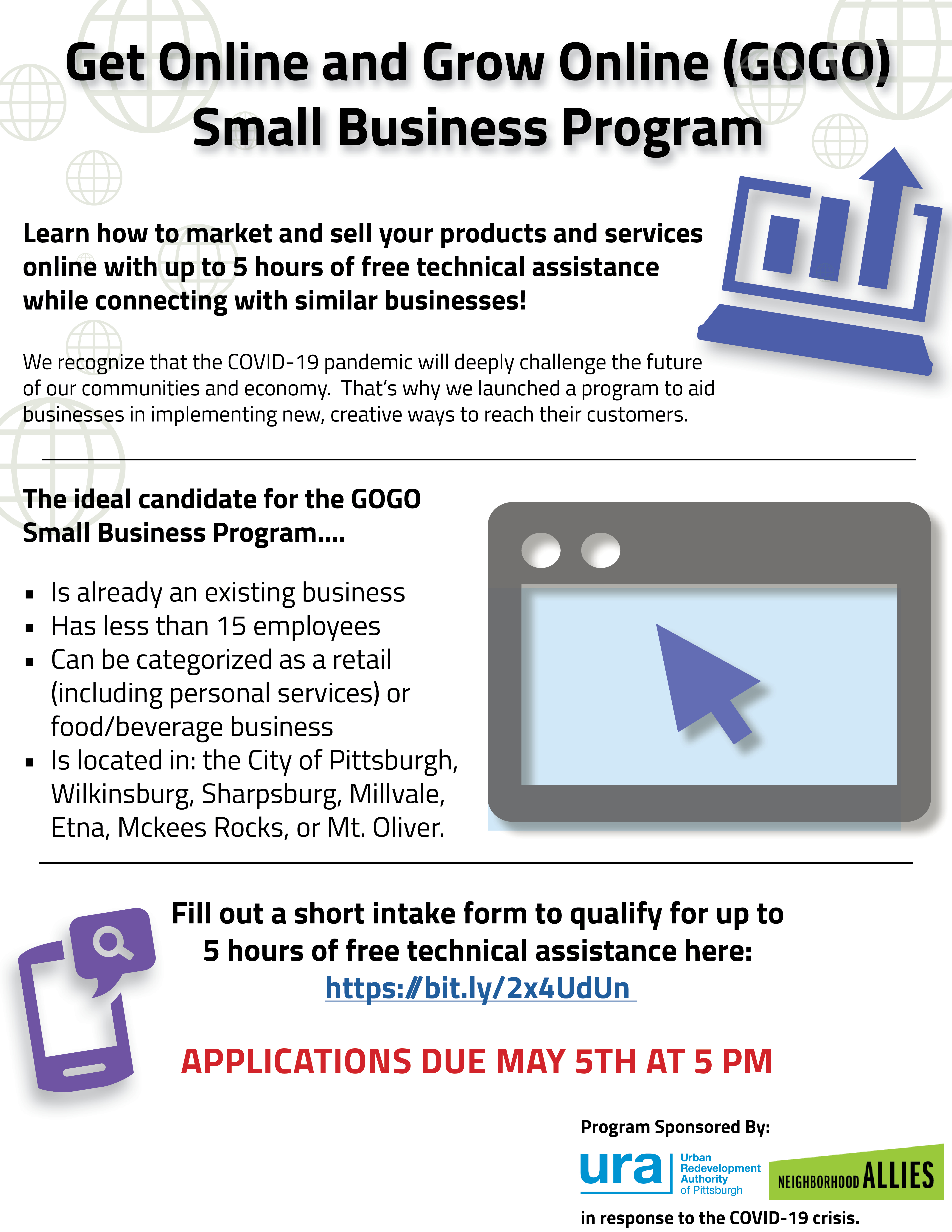 ---
COVID-19 Working Capital Assistance Program
*Not accepting applications at this time
The URA, through its affiliate Pittsburgh Economic Industrial Development Corporation (PEIDC), is administering the PA Industrial Development Authority's (PIDA) COVID-19 Working Capital Assistance Program to eligible City of Pittsburgh businesses.
This program supplies 0% loans for up to $100,000 for working capital expenditures to businesses negatively impacted by the COVID-19 pandemic. Anyone interested in the program should view the application and guidelines here.


---

Additional Resources for Pittsburgh's small business community
We will continue to update this list as resources become available.


Programs
Paycheck Protection Program
*This program will resume accepting applications on Monday, April 27 at 10:30 a.m.
The Small Business Administration Paycheck Protection Program (PPP) is a loan designed to provide a direct incentive for small businesses to keep their workers on the payroll. SBA will forgive loans if all employees are kept on the payroll for eight weeks and the money is used for payroll, rent, mortgage interest, or utilities.

Economic Injury Disaster Loan
The Small Business Administration is providing low-interest Economic Injury Disaster Loans to qualified Pennsylvanian small businesses experiencing economic injury as a result of the coronavirus. These loans may be used to pay fixed debts, payroll, accounts payable and other bills that can't be paid because of the COVID-19 impact.

Express Bridge Loan Pilot Program
The SBA Express Bridge Loan Pilot Program provides up to $25,000 for survival and/or reopening of business during or immediately following COVID-19 crisis.


Coronavirus Financial Bridge Loan Program
Hebrew Free Loan Association of Pittsburgh has announced a Coronavirus Financial Bridge Loan Program to provide interest-free loans on a nonsectarian basis for up to $5,000 to residents of Allegheny, Beaver, Butler, Westmoreland, Washington, and Armstrong counties who are facing financial challenges caused by the Coronavirus/COVID-19 outbreak.


Honeycomb Relief Loan program
Honeycomb Credit is offering the Honeycomb Relief Loan program to small businesses affected by the coronavirus. These loans up to $50,000 will offer a 45-day payment free period and a six-month interest-only period. Honeycomb is also streamlining its diligence process, accelerating the speed that it launches campaigns onto its platform, and reducing fees across the board.


Kiva Loans
The Kiva Pittsburgh program at Riverside Center for Innovation (RCI) helps business owners to apply for and crowdfund 0% interest loans with Kiva.org. During the COVID-19 outbreak, loans can be as much as $15,000 with a 6-month grace period. Find links to more information, local assistance with your application, and the online application on the RCI website.


Emergency Action Fund
The Pittsburgh Foundation is providing funding to nonprofit organizations facing immediate and long-term impacts of COVID-19 through the Emergency Action Fund. You can find the grant criteria and application, opening April 1, 2020, here.


Save Small Business Fund
The Save Small Business Fund is a grantmaking initiative of the U.S. Chamber of Commerce Foundation offering short-term relief for small employers in the United States and its territories. Apply here.


Facebook Small Business Grants Program
Facebook has a Small Business Grants Program that offers $100M in cash grants and ad credits to help during the outbreak of COVID-19.
Guides and Resources Lists
Resources for Residents
Housing Stabilization Program
The Housing Stabilization Program (HSP) is a housing crisis intervention program that provides one-time or short term (up to 3 months) financial assistance to households who are facing a temporary, non-reoccurring housing crisis. A limited amount of funding is also available for homeowners to assist with mortgage payments.
City of Pittsburgh residents in need of rental, utility or mortgage assistance should contact United Way 2-1-1. Interpreter services are available in over 140 languages.
United Way can be contacted through one of the following:
Text your ZIP Code to 898-211
Dial 211 from your phone
Call toll free at 1-866-856-2773
By chatroom: http://pa211sw.org/

Housing Assistance Resources Portal (HARP)
New! The City of Pittsburgh launched the Housing Assistance Resources Portal (HARP) where users can search for housing-related programs and services. It helps those interested in renting, currently renting, interested in buying a home, currently owning a home, renting their property as a landlord, or currently experiencing homelessness.
This resource is made possible in partnership by the City of Pittsburgh, URA and Housing Authority of the City of Pittsburgh.
---
The United Way operates a free helpline called 2-1-1 for housing and other emergencies. Dial 2-1-1, text your zip code to 898-211, or visit pa211sw.org for assistance.



The PA Housing Alliance is keeping an updated list of housing resources that includes mortgage loss mitigation and financial bridge loans, among other information.

Comcast is adjusting its Internet Essentials Program to meet the needs of low-income residents while dealing with the crisis.


Duquesne Light is waiving customers' late fees until at least May 1.


Port Authority is offering reimbursement for riders with passes who must stay at home due to COVID-19. Riders can call the authority at 412-442-2000, visit the website at portauthority.org.


The City of Pittsburgh's Financial Empowerment Center (FEC) is offering its free, one-on-one, professional financial counseling virutally. The FEC helps clients take control of their debt, deal with debt collectors, improve their credit, create a budget, save, connect to safe and affordable financial products, and much more.


Partner Pages
Please take notice of additional notifications and resources.
How You Can Help
Support Small Businesses
Shop & Order from Your Local Businesses
Help support your favorite local food and drink businesses and retailers by ordering takeout, buying giftcards, and/or shopping online.


---
Gallery on Penn Gone Virtual
The Gallery on Penn retail space in East Liberty has gone virtual. Shop your favorite Gallery on Penn businesses from the comfort of your home.


---
More Ways to Support Businesses and Workers
---
Support the Arts Community
You can donate to the Emergency Fund for Artists fundraiser which is raising money for local performers and artists who have lost income due to the cancellation of tours, gigs, and jobs in the nightlife and events industry.
Cancelled/Rescheduled Events
In compliance with City of Pittsburgh protocals prohibiting public gatherings of 50 or more people, the following URA-hosted events have been cancelled:
Let's Talk Business: Northside Edition - March 11


EMPOW(HER) Women's History Month Networking Event - March 27


Building CapaCITY: A Real Estate Networking Event - April 7


Centre Avenue Round 2 Site Tour - May 4



Housing Opportunity Fund Advisory Board Meeting - May 7


The following URA-hosted event has been rescheduled:
April Regular Board Meeting - Virtual - April 16
We understand the many challenges our neighbors are facing right now and are committed to meeting the needs of residents and businesses. Have a question or concern related to COVID-19?
We're here to help.
Have questions? Contact us at 412.255.6600 or COVID19Info@ura.org.