View All Projects
Skinny Building
Façade, historic, downtown, public art, art, renovation, restoration, preservation, RCAP, PHLF, Pittsburgh History and Landmarks Foundation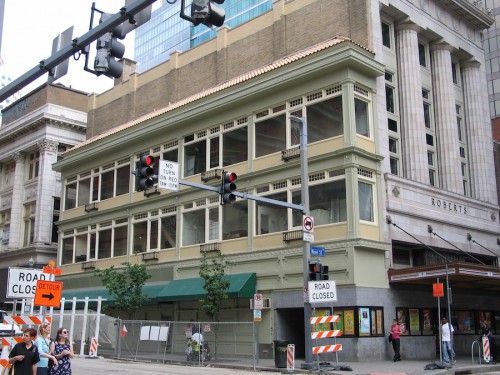 Restored
11
Historic Facades
A partnership between the URA and Pittsburgh History and Landmarks Foundation used RACP grant money to restore the upper floors of the building.
The Skinny Building, built in 1926, came into URA ownership in 2013. The Skinny Building housed everything from a rabbit pelt distributor to a Coney Island hot dog lunch counter. The well-known Downtown oddity had seen better days throughout its many years and needed a facelift.
The URA teamed up with Pittsburgh History and Landmarks foundation in 2014 to restore the facades of the upper two floors. Plans to renovate the first-floor retail space are in the works, as well as the planned activation of the top two floors as an art display space, for the people on the street below to enjoy.
Facts
Developer: Partnership between URA and Pittsburgh History and Landmarks Foundation
Architect: Landmarks Design Associates
Total Development Cost: $450,000
URA Role/Financing: The building and its neighbor, the John M. Roberts and Son Co. jewelers building, are owned by the URA. A 2014 Redevelopment Assistance Capital Program grant helped to restore 11 historic facades in Downtown Pittsburgh, one of which was the Skinny Building's.