View All Projects
Bakery Square
Rehabilitation and new construction of mixed-use development, including new hotel, retail, parking garage, and high-quality office space.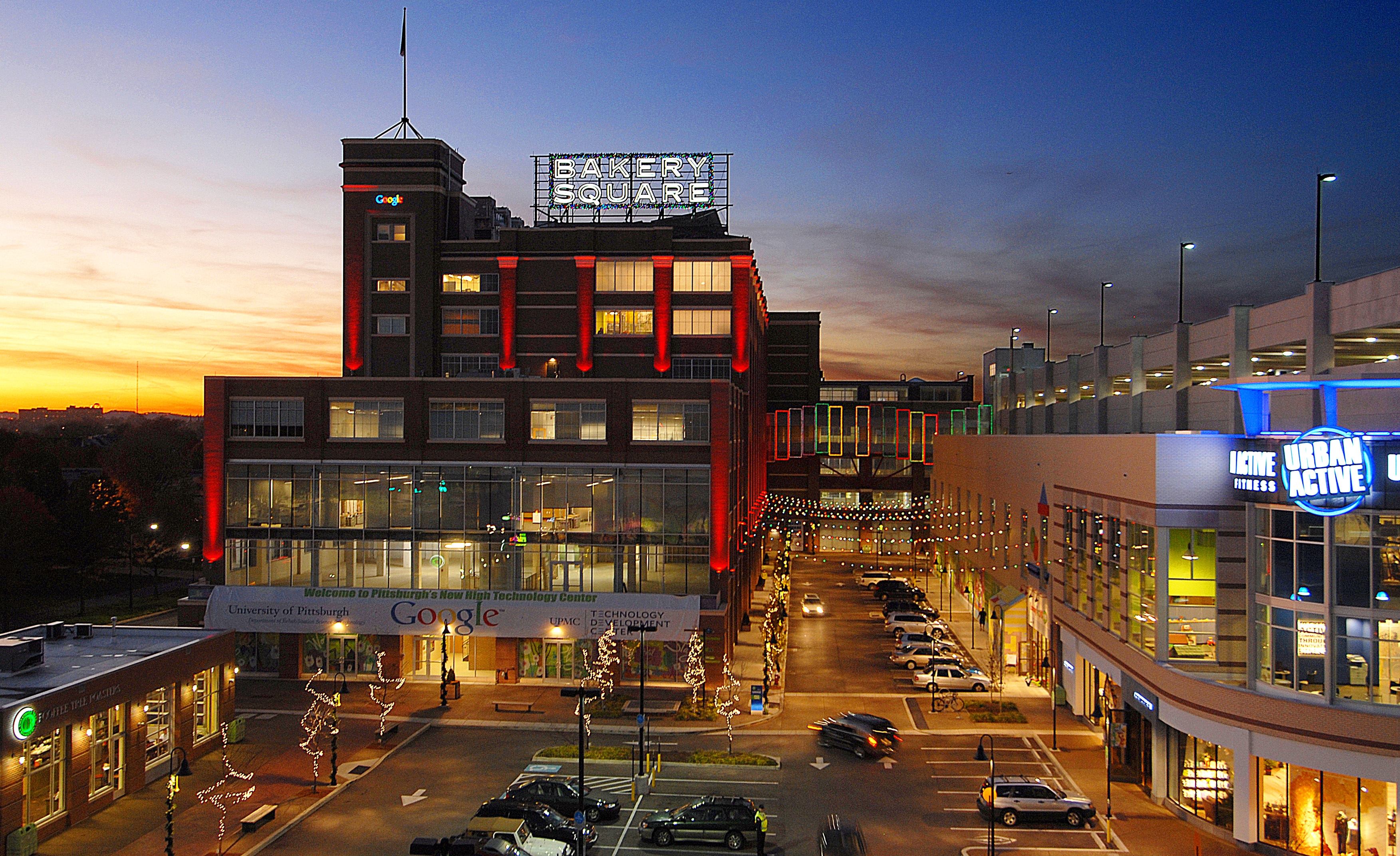 Financed
10.5M
Dollars
Developed
6.5
Acres
Larimer
6425 Penn Ave., Pittsburgh, PA 15206
The Bakery Square development transformed the former NABISCO site into a high quality mixed-use development creating a burgeoning technology hub in the Pittsburgh's East End.
Background
In 1998, National Biscuit Company (NABISCO) closed its 6.5-acre cracker factory in Pittsburgh's Larimer neighborhood. URA investment facilitated the rehabilitation of this iconic symbol of Pittsburgh's industrial past; and paved the way for Pittsburgh's new technology economy. This development capitalized on its proximity to Oakland and its university and service market to bring in tenants such as Google, Autodesk, the University of Pittsburgh Human Engineering Research Laboratories, and the Carnegie Mellon University Software Engineering Institute.
Schedule
Bakery Square was completed in 2010.
Results
Bakery Square has generated thousands of high-quality jobs and new tax revenue. Prior to the redevelopment, this site generated a mere $84,000 in annual tax revenue. In 2016, the Bakery Square Tax Increment Financing (TIF) District generated $1.4 million in tax revenue of which $543,000 in unpledged increment went directly to local taxing bodies. After the expiration of the TIF District in 2027, the site is estimated to generate $1.7 million in annual tax revenue.
Facts
Developer: Walnut Capital
Contractor: PJ Dick
Architect: Astorino
Total Development Costs: $113,500,000
URA Role: Disposition, Grants Management, and TIF
URA Financing: $10,500,000 in TIF and $2,500,000 PDF loan.
LEED Silver certification
75kW Solar Array
Description: 6.5-acre mixed-use development including 380,000 square feet of office, 120 hotel rooms, and 800 space parking garage.