View All Projects
East Liberty Transit Oriented Development
Transit Oriented Development (TOD) including a multi-modal transit station, multifamily residential, parking garage, and commercial retail. Located in the East Liberty neighborhood on the Martin Luther King, Jr. East Busway.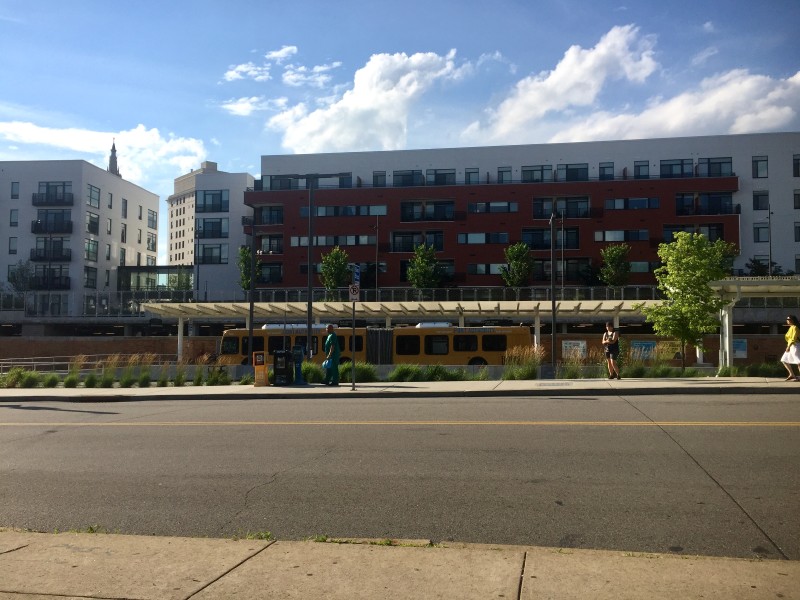 Created
361
New Jobs
Developed
360
Housing Units Financed
13.1M
Dollars
Redeveloped
6
Acres
East Liberty
6105 Spirit St, Pittsburgh, PA 15206
Through an innovative public-private partnership, the East Liberty Station Transit Oriented Development (EL TOD) project transformed six acres of blighted and idle publicly-owned property into a state-of-the-art multimodal transit station and mixed-use development on Pittsburgh's Martin Luther King Jr. East Busway.
Background
The East Liberty TOD project integrates station and site development to create strong pedestrian connection between the adjacent neighborhoods and Martin Luther King Jr. East Busway. This approach created healthy connected neighborhoods that thrive from increased accessibility through public transit and decreased automobile dependence. The project was a multi-agency effort including Mosites Development Company, the City of Pittsburgh, Port Authority of Allegheny County and East Liberty Development, Inc.
Public Investment
The URA facilitated $54 million in local, state, and federal investment in the $158 million Eastside Transit Oriented Development project. This project included financing from Pennsylvania's first Transit Revitalization Investment District.
Results
Transit ridership at the East Liberty Transit Center increased nearly six percent after reopening in 2015.
Facts
Developer: Mosites Company / Urban Redevelopment Authority of Pittsburgh
Total Development Cost: $77,000,000
URA Investment: $1,500,000 Transit Revitalization Investment District Financing, $11,600,000 Pittsburgh Urban Initiatives New Market Tax Credit allocation, and grants management for various state and federal funding sources
219 Construction Jobs Created
142 Full-time Equivalent Jobs Created
$1,000,000 dollars in new tax revenue annually
Description: Transit Oriented Development (TOD) including a multimodal transit center, 360 multifamily housing units, a 554-space shared-use parking garage, a 120-space bike garage, and 43,000 square feet of retail space.