Housing Stabilization Program
A housing crisis intervention program
The Housing Stabilization Program provides one-time or short-term financial assistance to households who are facing a temporary non-recurring housing crisis. City of Pittsburgh renters may receive up to $6,000; and homeowners may receive up to $6,000 in housing assistance.
What assistance does the HSP offer?
Move-in assistance


First and last month's rent


Application fees


Security deposit


Utilities (arrears and upcoming)


Rent (arrears and upcoming)


Mortgage assistance (if not in Act 91)


*Maximum total assistance for renters is $6,000, and for homeowners is $6,000. Applicants can apply for the program once every 3 years.
What are the eligibility requirements?
Must be a renter or homeowner in the City of Pittsburgh


Renters must have income at or below 50% AMI and homeowners must be at or below 80% AMI. (See income chart below.)


Must develop a housing stability plan with a service provider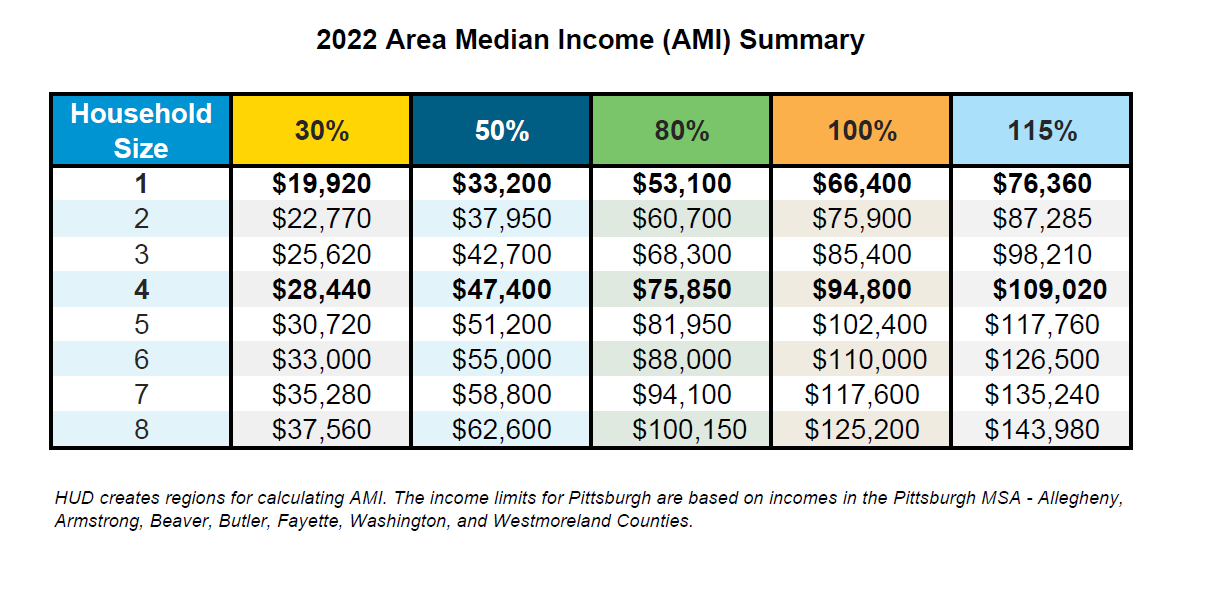 This chart shows the maximum annual income limits for the Housing Stabilization Program. Annual Gross Income = Total income received by the entire household, before taxes and withholdings.
Documents Required to Receive Financial Assistance
Identification (Driver's license, state ID, passport, any photo ID)


Income Documentation (W-2, pay stubs, unemployment letter, letter from employer)


Proof of Need (Late/eviction notice, lease, utility bills)


Note: Translation services are also available. If you are seeking assistance because of the COVID-19 pandemic, you will be asked to document how the pandemic has affected your financial situation and housing stability.
How to Apply
By Phone:
Call 1-866-730-2368 to be screened for the Housing Stabilization Program. Calls are free and confidential. Interpreter services are available.


By Email:
AlleghenyLink@AlleghenyCounty.US


In Person:
Human Services Building
1 Smithfield Street Pittsburgh, PA 15222
Monday through Friday 8AM – 7PM
Program Materials