View All Projects
Lawrenceville Community Land Trust
The first phase of the Lawrenceville Community Land Trust consists of the new construction of six for-sale homes and the rehabilitation of one for-sale home in Upper Lawrenceville. The homes will be permanently affordable to households that are less than 80 percent of the Area Median Income (AMI).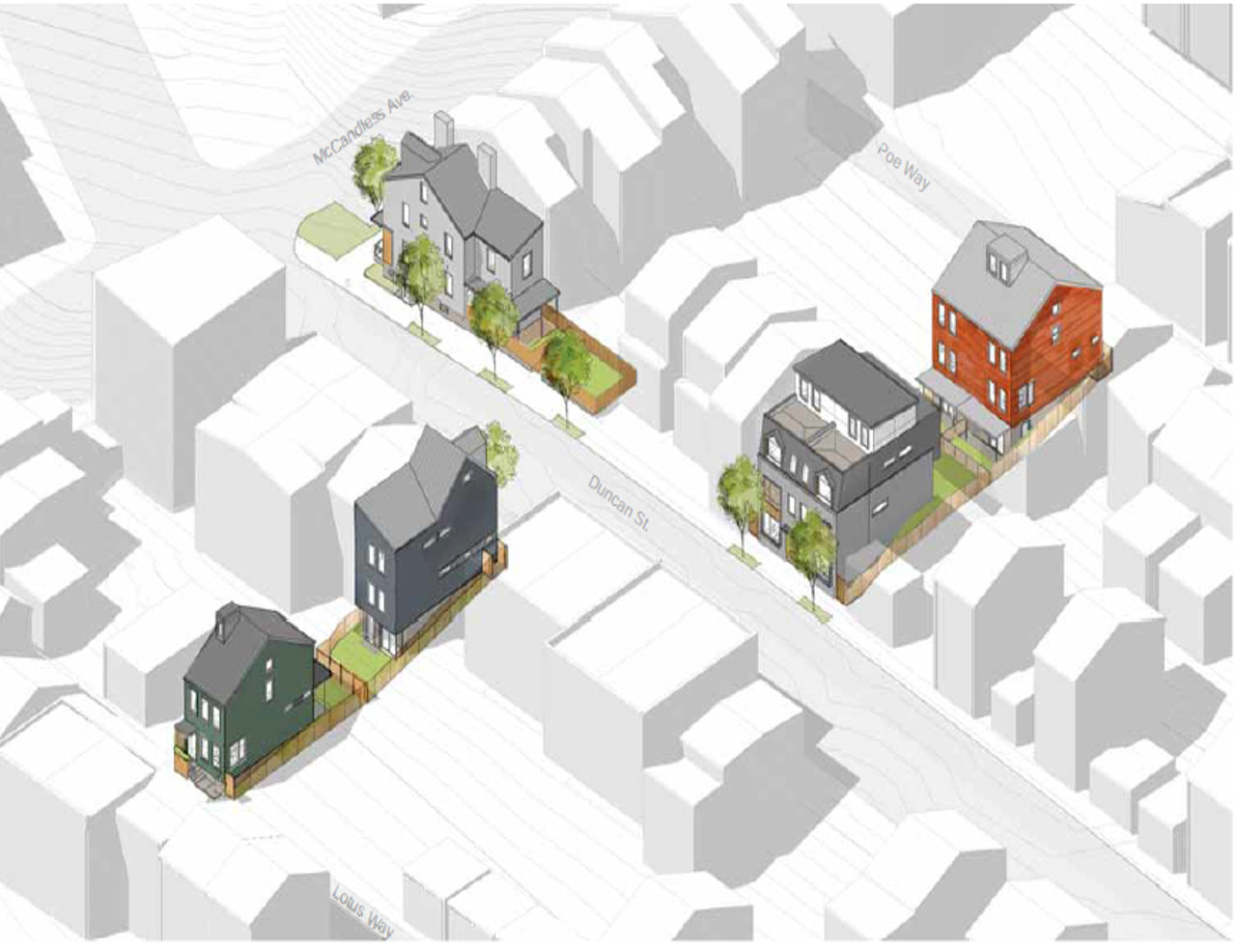 Financed
+674k
Dollars
Developed
7
For-Sale Homes
Upper Lawrenceville - 5230 Lotus Way, 5229 and 5231 Poe Way, 5228, 5230, and 5233 Duncan Street, and 800 McCandless Avenue, Pittsburgh, PA
The Lawrenceville Community Land Trust
The Lawrenceville Community Land Trust is the first permanently affordable community land trust in the City of Pittsburgh.
Background
The Lawrenceville Corporation (LC) is a not-for-profit community development corporation that serves Upper, Lower, and Central Lawrenceville. Over the last decade, housing values in Lawrenceville have steadily increased, making homeownership in the neighborhood unobtainable for some long-time Lawrenceville/City of Pittsburgh residents. To create affordable homeownership and ensure that the homes remain affordable for many generations to come, the LC created the City's first Community Land Trust.
What is a Community Land Trust?
A Community Land Trust (CLT) is a way for a not-for-profit organization to own the underlying land but allow the homes to be sold to and individually owned by low-income/moderate-income homebuyers. Because CLTs retain ownership of the underlying land, CLTs can record deed restrictions regarding the income levels of households that can purchase the homes upon resale to ensure that the housing remains permanently affordable.
Development
Construction financing for the development closed in the summer of 2017. The new construction is modular in nature. The modular boxes were delivered to the site in September 2017 and construction is anticipated to be completed by January or February 2018.
Results
Seven permanently affordable for-sale homes will be created in Upper Lawrenceville. The homes will be affordable to households at or below 80 percent AMI. In Pittsburgh, a family of four must make less than $58,100 to be eligible to purchase one of the CLT homes.
Facts
Developer: Lawrenceville Corporation
Contractor: EcoCraft Homes
Architect: Rothschild Doyno Collaborative
Total Development Cost: $2,161,500
URA Financing: $674,620
Permanently Affordable For-Sale Housing