View All Projects
Morningside Crossing
The Morningside Crossing development is an adaptive reuse of the former Morningside School building plus a new addition into 46 units of mixed-income senior housing, a new community center and a public plaza.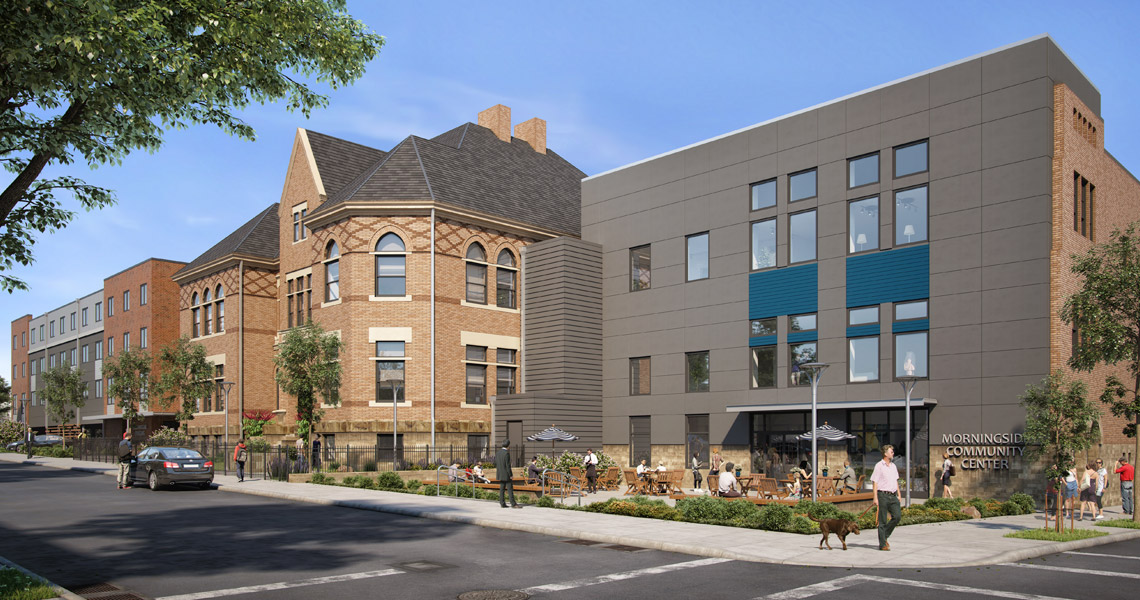 Developed
46
Residential Units Financed
1M
Dollars
Morningside
1802 Jancey Street, Pittsburgh, PA 15206
The Morningside Crossing development provides the neighborhood with an active, intergenerational community destination that combines elements of preservation, new construction and public space for the community's use.
Background
The URA acquired the closed and vacant elementary school from the City of Pittsburgh Public School District in 2014. Through the URA Real Estate RFP process, a.m. Rodriguez was selected to redevelop the site. The project was awarded Low Income Housing Tax Credits (LIHTCs) and from the Pennsylvania Housing Finance Agency (PHFA) in 2016.



Results
Preservation efforts focus on the exterior facade of the original 1897 schoolhouse, which will house 10 units and amenity spaces. The 36-unit balance will be constructed as part of a modern, contextually-adapted, three-story addition over a landscaped parking area. A newer addition from 2006 has been demolished to provide space for the community plaza, and an older addition will be converted into the two-story Center, which will serve the dual purpose as the community room for the property and a community center for the neighborhood. The Project has been designed to meet Passive House Standards.


Facts
Developer: Morningside Crossing, LP (a.m. RODRIGUEZ ASSOCIATES inc. as general partner)
Community Partner: Morningside Area Community Council
Contractor: Sota Construction Services, Inc.
Architect: Thoughtful Balance
Total Development Cost: $14,053,584
URA Financing: $1,000,000
The developer purchased the building from the URA.
Mixed-income senior residential units with a community center and public plaza.


Inquiries
For those interested in these units and their availability, please direct your inquiries here.