View All Projects
Penn Mathilda Apartments
Penn Mathilda Apartments is a newly constructed mixed-use affordable housing building for veterans and families. The ground floor has 6,200 square feet of commercial space and the upper floors house 39 apartment units.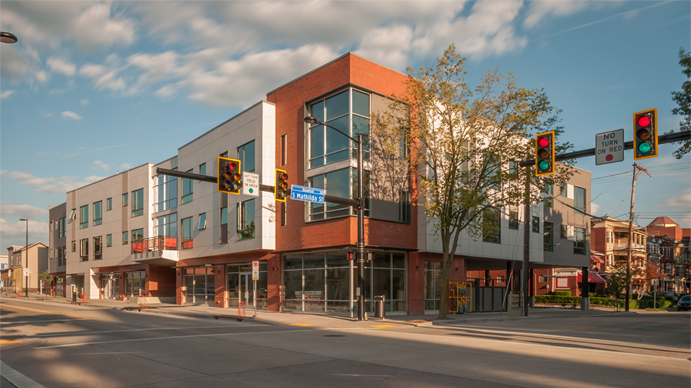 Developed
39
Units Financed
1.4M
Dollars
Bloomfield
4800 Penn Ave., Pittsburgh, PA
Penn Mathilda apartments provides supportive and affordable housing to veterans and families. Half of the units will be targeted to veterans of the U.S. Armed Services and the remainder of the units will house families and individuals at or below 60 percent of the Area Median Income (AMI).
Background
Action Housing, Inc. acquired a vacant and abandoned site on the edge of the Bloomfield, Garfield, and Friendship neighborhoods in the East End of Pittsburgh. They desired to provide an affordable housing option in this growing-market area.
Development
Construction financing for the development closed in December 2014 and was completed in the Fall of 2016.
Results
The building has 39 affordable residential units and 6,200 square feet of commercial space.
Facts
Developer: Penn Mathilda Apartments, LP (Action Housing, Inc. as General Partner)
Community Partner: Bloomfield Garfield Corporation
Contractor: Repal Construction
Architect: Moss Architects
Total Development Cost:$11,650,586
URA Financing: $1,400,000
Affordable residential units with ground floor commercial space
Penn Mathilda Apartments