View All Projects
Riviera
The Riviera is an upcoming six-story, Class A office building at the Pittsburgh Technology Center. Developed by Burns and Scalo Real Estate on speculation, this development will feature 160,200 rentable square feet of office space as well as a full-service coffee bar and café, fitness center, riverfront patio, and bike storage.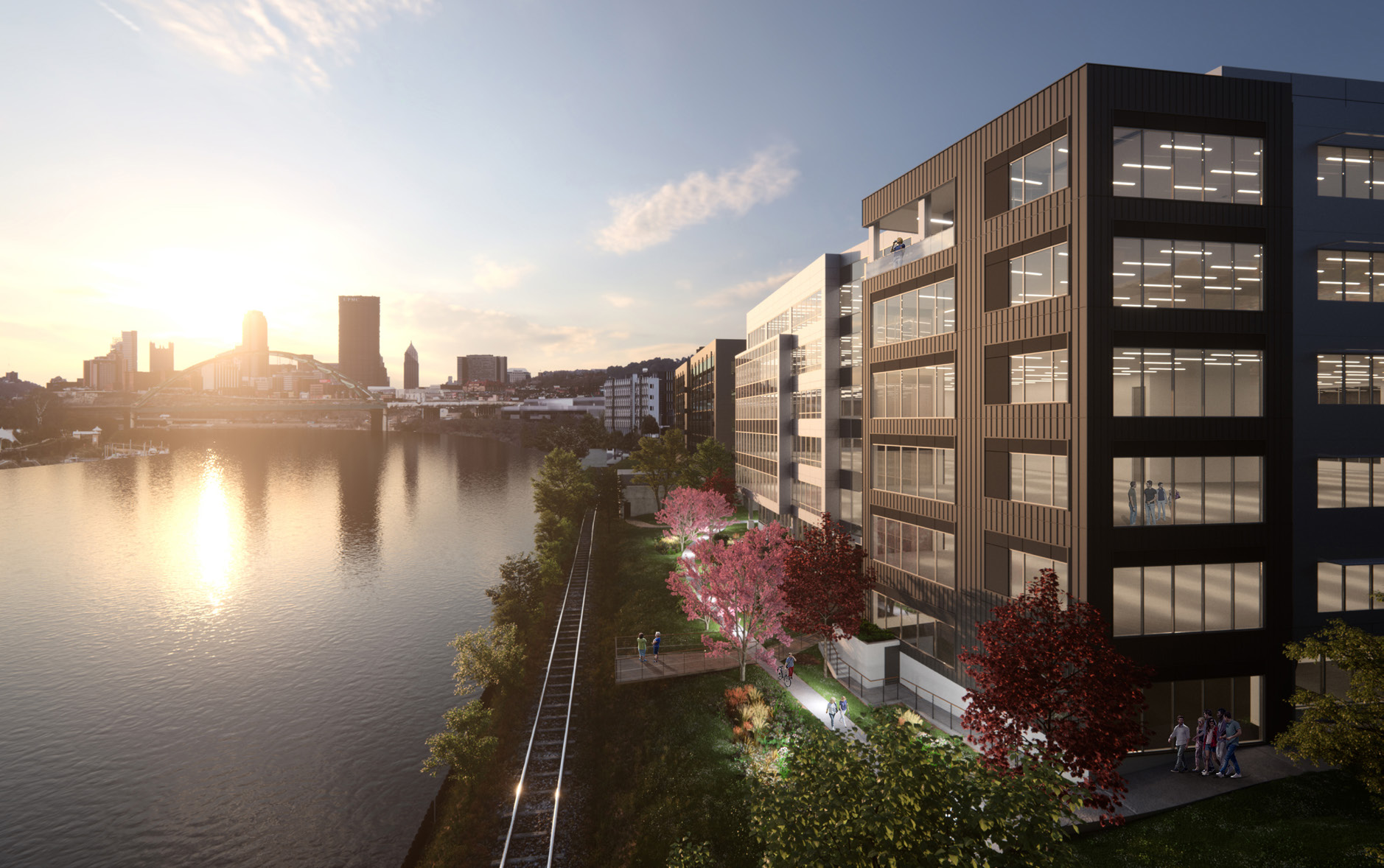 Background
The development site is located in the Pittsburgh Technology Center (PTC) in the South Oakland neighborhood. PTC is a state-of-the-art riverfront office park and regional center for research and development. It is a nationally recognized example of brownfield reclamation and the first project in Pennsylvania to use tax increment financing (TIF). The URA purchased the 48-acre former Jones & Laughlin Hot Strip Mill in 1983.
The URA's role in this development included acquisition and site plan development, oversight of the environmental assessment and remediation (mostly of subsurface debris), oversight of the design and construction of the infrastructure – including roads, water and sewer lines, reconstruction of Second Avenue, and construction of two new parking garages. The URA also coordinated the financing for this site with its federal, state and local public partners and sought, selected and worked with private investors and developers to complete the redevelopment.
Major companies on site include Hitachi Rail STS, Braskem America, Inc, the University of Pittsburgh's Center for Biotechnology and Bioengineering, Carnegie Mellon University's Entertainment Technology Center, Thermo Fisher Scientific, Level 3 Communications.
The site features amenities such as an 111-room hotel and two parking garages.
Development
The Riviera received its final URA Board approval and closed in May 2018. Construction began in June 2018 and is currently working on tenant buildout.
Facts
Developer: Burns and Scalo Real Estate
Lender: Dollar Bank
Contractor: Burns Scalo Development, LLC
Architect: NEXT architecture
Total Development Costs: $35.7 million
Land Sale Price: $539,055