Back to News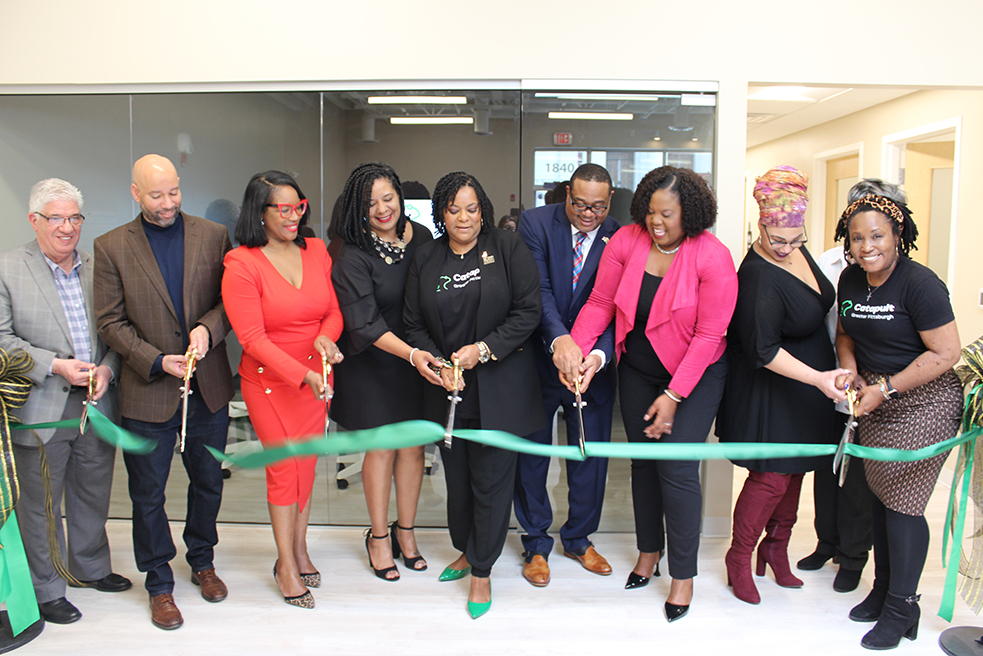 City, URA, Catapult Greater Pittsburgh, and PNC Foundation Celebrate Ribbon Cutting at Gallery on Centre in the Hill District
March 31, 2022
PITTSBURGH, PA (March 31, 2022) Mayor Ed Gainey joined elected officials, the Urban Redevelopment Authority of Pittsburgh (URA), Catapult Greater Pittsburgh, PNC Foundation, and others this afternoon for the ribbon cutting of the new Gallery on Centre retail incubation space, part of the Avenues of Hope initiative. Located at 1840 Centre Avenue in the Hill District neighborhood, the Gallery on Centre was launched as a part of the Catapult: Startup to Storefront Program and funded by the PNC Foundation.
"The Gallery on Centre is something we should all be proud of and will serve as a model for equitable development in every neighborhood," said Mayor Gainey. "The Avenues of Hope initiative showcases the City of Pittsburgh's commitment to investing in Black communities. By focusing on the intersection of affordable housing, workforce development, and mixed-use transit-oriented environments we are able to create a lasting, positive impact for Black residents in Pittsburgh."
Catapult alumnae and entrepreneurs Nicole Narvaez Manns, owner of Nikki's Magic Wand, and Aquene Watkins-Wise, chief advocating officer of Royally Fit, provided remarks on their experiences with the program.
Light refreshments were provided by CARES CommuniTEA Cafe and Nice to be Iced Cookies, a participating business of the Catapult Culinary program.
"This is an amazing opportunity for new entrepreneurs from the Hill District or those wanting to start a business in the Hill District," said Catapult Executive Director Tammy Thompson. "Participants will get access to retail space to sell their products, technical assistance, and opportunities to participate in collaborative events. The URA was instrumental in helping us launch our Catapult: Startup to Storefront and Gallery on Penn programming in East Liberty, so now the opening of our second location in the Hill District is just very exciting. We hope that the residents of the Hill District will be proud to have our programming and these new businesses operating in their community."
The 1,422 square-foot space contains a conference room and two individual meeting rooms. It will house six businesses from the Catapult Hill District cohort, with shelf space available for future Hill cohort participants and graduates. Many of featured entrepreneurs at the Gallery on Centre are Hill District residents or have close ties to the neighborhood. All businesses are minority-owned, and most are women-owned.
"The Gallery on Centre is a prime example of how creative partnerships can lift, empower, and enable entrepreneurs," said URA Deputy Executive Director Dr. Diamonte Walker. "It is the kind of project we envisioned when creating the Avenues of Hope initiative. It demonstrates how place-based strategies can serve as wealth-building tools, providing opportunities and bringing much-needed investment to the neighborhood. The Gallery on Centre will be a core component of the continued revitalization of Centre Avenue, and we look forward to watching these new businesses grow."
Funding for the space was provided by PNC Foundation. In August 2020, the PNC Foundation awarded $1 million to the URA over the course of five years for the Catapult: Startup to Storefront Program. To date, roughly $450,000 of that investment has been allocated to the program and the Gallery on Centre renovation.
"Small businesses play a vital role in our communities," said Sally McCrady, president and chair of the PNC Foundation. "During the pandemic, there has been a gap in critical support, particularly for minority- and women-owned small businesses and those in underserved communities. The PNC Foundation supports the Catapult program, because it has a proven track record of elevating these businesses in our region."
Administered by Catapult Greater Pittsburgh, Catapult: Startup to Storefront is a 12-month business incubation program which aims to support new and growing minority-led businesses in the City of Pittsburgh. Paramount Pursuits provides business consulting. PNC Foundation, the URA and City of Pittsburgh provide funding for the program.
Since the program began in 2018, Catapult has graduated five cohorts of businesses - four Startup to Storefront Cohorts and one Catapult Kids Cohort - for a total of 47 graduates. Currently there are two cohorts in session: Startup to Storefront with 17 participants, and Catapult Culinary with 15 participants.

By August 2022, close to 100 businesses will have graduated from Catapult entrepreneurship programs; 100% of those entrepreneurs are Black or Latino; 85% are women.
###


About PNC Foundation
The PNC Foundation, which receives its principal funding from The PNC Financial Services Group (www.pnc.com), actively supports organizations that provide services for the benefit of communities in which it has a significant presence. The foundation focuses its philanthropic mission on early childhood education and community and economic development, which includes the arts and culture. Through Grow Up Great, its signature cause that began in 2004, PNC has created a bilingual $500 million, multi-year initiative to help prepare children from birth to age 5 for success in school and life.

About the Urban Redevelopment Authority of Pittsburgh (URA)
The URA is the City of Pittsburgh's economic development agency, supporting the City's economic development goals, which are designed to create a city of inclusive opportunity for residents, stakeholders, and communities. The URA is committed to creating more housing that is affordable to the average Pittsburgher; encouraging more entrepreneurship and small business development; promoting inclusive growth and quality job creation; expanding neighborhood and main streets revitalization efforts; and developing a talented workforce that is equipped with the skills of the future.