Back to News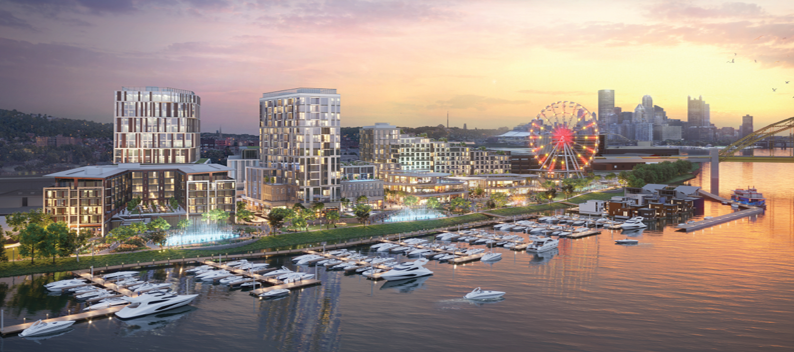 City & URA Partner With Manchester Citizens Corporation & Millcraft Investments To Advance Esplanade Development
December 15, 2021
PITTSBURGH, PA (December 15, 2021) The Urban Redevelopment Authority of Pittsburgh (URA) Board of Directors is set to vote tomorrow on the sale of URA-owned property to Esplanade Partners, LP, a wholly owned subsidiary of Millcraft Investments, Inc., for $1.5 million to advance Phase I of the Esplanade development. The approximately 5.59 acres owned by the URA are located along the Ohio River just north of the Rivers Casino and the West End Bridge in the Chateau neighborhood.
"The construction of Route 65 separated a beautiful and historic neighborhood from its riverfront, and this project begins to bring them back together. The relationship forged between the Manchester community and Millcraft is the type of community driven development we need to truly create equity and opportunity in every neighborhood. I want to thank Lucas Piatt and LaShawn Burton-Faulk for their partnership, vision and commitment to invest in both the physical community and the people of Manchester and Chateau," said Mayor William Peduto.
Esplanade will be a major redevelopment of the URA-owned brownfield parcels, along with four surrounding privately-owned, underutilized industrial parcels. The ​entire project will transform an approximately 15-acre site into a mixed-use development with a wide variety of uses centered around a pavilion conceived as an indoor extension of the riverfront open space. The pavilion will include a courtyard/winter garden that will be the hub for a restaurant, fresh food market, and other experiential programing. The exterior will feature areas for public seating and gathering, along with other amenities. It will be available to the public year-round and accessible from either the Esplanade streets or the riverfront.
Phase I of the project will utilize the URA parcels and include some improvements on the surrounding parcels. Included are the 45,000 square foot pavilion building; a 300-unit apartment building containing both affordable and market-rate housing and retail space; a 15,000 square foot space supporting a 53-meter Ferris wheel; a 550-space public parking garage; and a mixed-purpose marina including a public pier, public safety uses, houseboats, and seasonal and transient slips.
The plan also includes additional environmental and recreation improvements such as the relocating and enhancing the Three Rivers Heritage Trail, stabilizing and re-vegetating the river's edge, restoring native plants, cultivating green infrastructure, and maintaining active and passive open space. Plans for the open space include retail kiosks to be used as incubator or temporary operating spaces for local entrepreneurs; splash park and ice-skating amenities; a park-like amphitheater for small performances and local music; passive reflection and quiet zones; and historical/educational placards focused on local figures and events.
The budget for Phase I is approximately $236 million.
"We are excited to be moving to the next steps of the Esplanade project. We are especially thankful for our partnership with our neighbors in the Manchester, Chateau and North Side communities as we work together to reconnect the neighborhoods and transform old industrial land into an active riverfront destination for everyone to enjoy. We are grateful to the City and URA for their support," said Lucas Piatt, owner and CEO of Millcraft Investments.
"Over the last few months, a strong relationship has developed between Millcraft, Manchester Citizens and myself," said Councilman R. Daniel Lavelle. "This is critical because it helps to ensure that Esplanade is not an isolated development, but rather a development that reconnects Chateau to the larger historic community. The relationship is also critical to ensure the development provides connectivity, wealth building opportunities, affordable housing, business development and sustainability for residents of Manchester, and the region."
The developer has committed to​ continu​ing good faith efforts to work with Manchester Citizens Corporation and community stakeholders to meet community objectives for connectivity, job creation and educational opportunity, sustainability, a community benefits agreement, financing, and affordable housing prior to closing.
"MCC its board of directors and myself are so grateful that Mayor William Peduto and his Administration made neighborhood comprehensive plans a priority," said Manchester Citizens Corporation Executive Director LaShawn Burton-Faulk. "Manchester's neighborhood plan has called out equity, connectivity and sustainability as drivers for transformative community development. The Esplanade, through hard work and partnership, will create a community benefits agreement, based on commitment that will allow Manchester Chateau to become a regional asset. We'd also like to thank Councilman Lavelle for his guidance and input on this project."
"From land reclamation to wealth building, job creation, increased housing opportunities, and encouraging sustainable development, there is a lot to like about Esplanade," said URA Executive Director Greg Flisram. "We are excited to see this mixed-use project, which includes affordable housing, advance forward with the Manchester community in a way that seeks to reconnect the neighborhood to a revitalized riverfront."