Back to News
MWBE News and Events: April 2019
April 2019
Important Announcement:
The URA is pleased to announce a new web-based software system for MWBE management and contract compliance reporting called B2GNow. This new system will replace the existing URA MWBE plan spreadsheet and will be accessible to all prime contractors and subcontractors. To learn more about the URA's roll-out of B2GNow click here.


Event Calendars to Follow:
Upcoming Networking Event:
Tuesday, April 30, 2019 – Pittsburgh International Airport Industry Day #4 and Small Business Fair
(Hyatt Regency – Pittsburgh International Airport)

REGISTRATION REQUIRED


Training Opportunities:
ROADMAP TO $1MM+:
Less than 2% of women-owned businesses grow their businesses to the $1 million mark. With thoughtful planning, dynamic strategies and perseverance, this milestone can be reached.
APPLICATION DEADLINE: APRIL 9, 2019
(Chatham University - Center for Women's Entrepreneurship)

COMMUNITY POWER TO PROSPER:
Community Power to Prosper is a 6-month certificate program designed to target existing inner city businesses that are interested in entrepreneurship and growth. The program's goal is to identify barriers and develop strategies for growth in sales, profits, and enterprise value.
APPLICATION DEADLINE: JUNE 3, 2019. See flyer for details.
(University of Pittsburgh – The Institute for Entrepreneurial Excellence)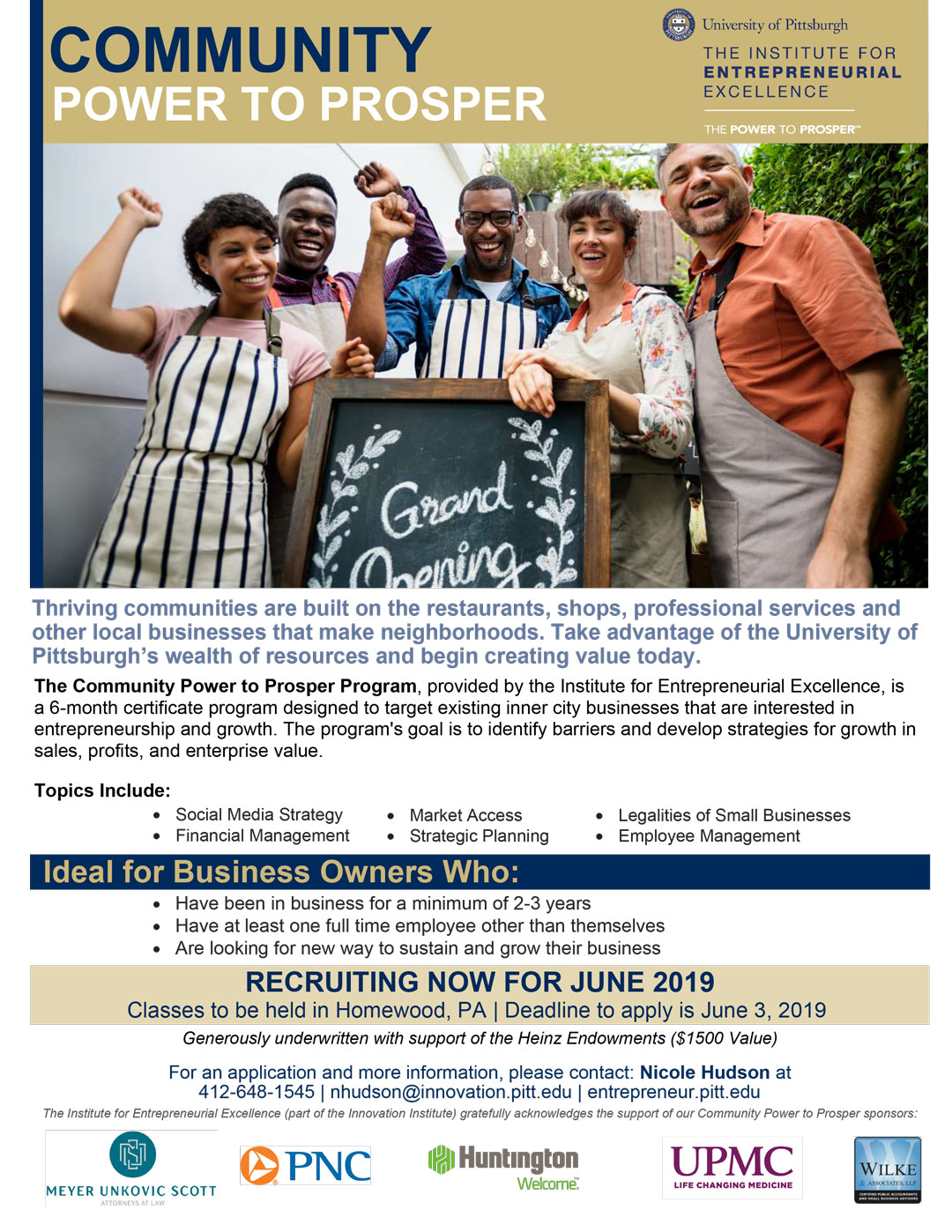 MWBE Out and About
April 18, 2019 – Lisa Moses and Emily Pontarelli will be at the SHARE Pittsburgh 2019 event (Rivers Casino).