Back to News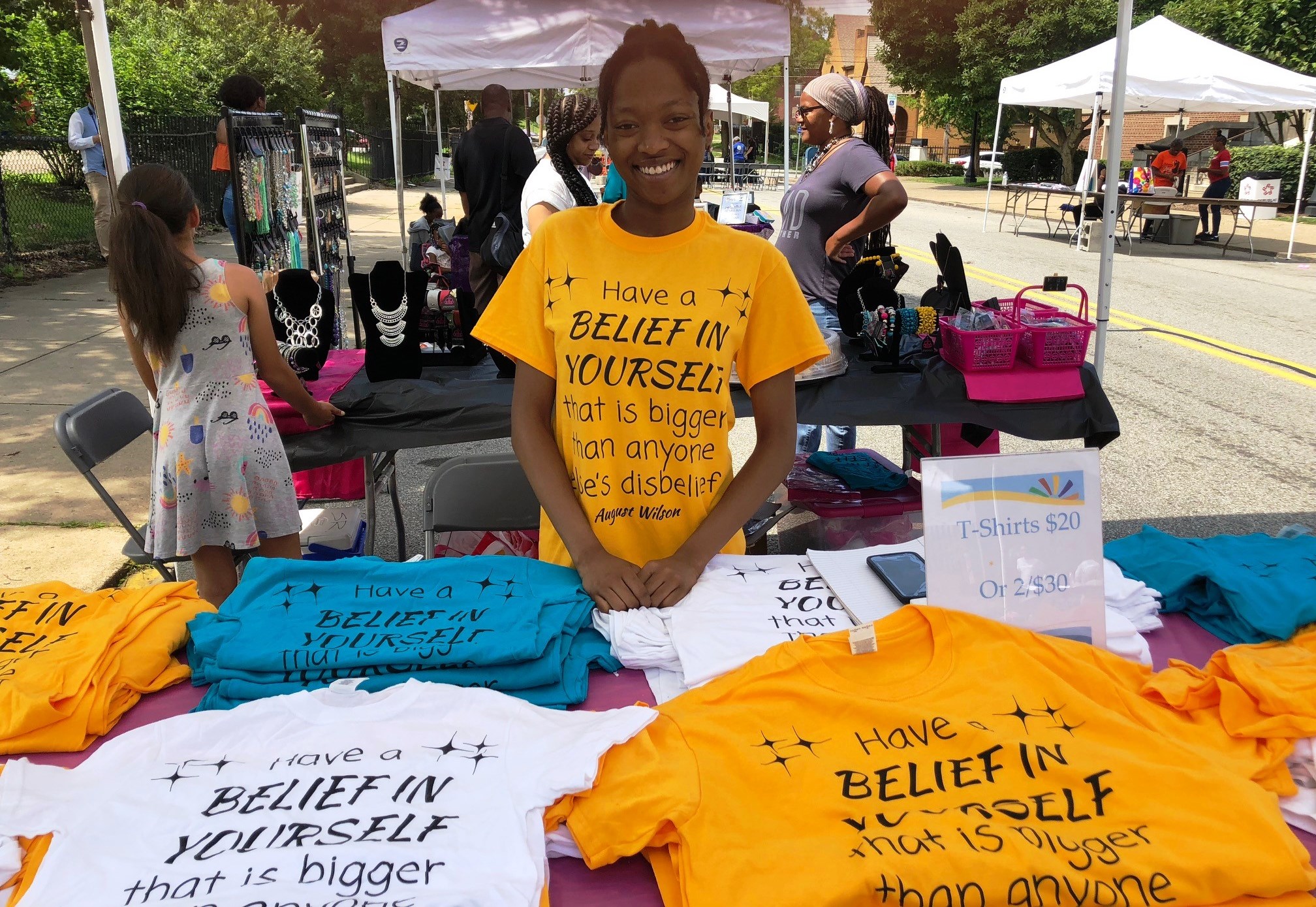 NEXTneighborhood Homewood: A Latte Celebrating Going On
September 2018 Newsletter
A 2-day success!
The sounds of African percussion, powerful vocals, insightful poetry, children laughing, and popcorn popping were all heard on Hamilton Avenue in Homewood at the NEXTneighborhood Block Party on Saturday, August 18. Residents and visitors joined together to celebrate the neighborhood's culture, rich history and growth.
Outdoors, the crowd of 200+ enjoyed musical, dance and spoken performances by the Balafon West African Dance Ensemble and many other local performers. Guests perused booths full of beauty supplies, clothing and accessories; Oasis Creative Space artists wowed bystanders with live art; children enjoyed face painting, crafting with the Pittsburgh Center for Creative Reuse, and balloons by Alexis Childress; and the URA Homebuyer Workshop booth helped many individuals looking to buy or improve a home.
Indoors, folks explored the historic Carnegie Library of Pittsburgh – Homewood branch and viewed the work of native film director, Antoine Fuqua, on a big screen.
The Bowl of Life served tasty food and treats, and Icy Cone Food Cart was there to help everyone cool off from the heat. TLC Libations offered refreshing sangria, beer and spirits as the party came to an end.
If you missed Saturday's Block Party, you can view photos here.
On Sunday, our REALTOR partners reported at least 20 people toured the 17 for-sale homes listed on the NEXTneighborhood map. People were also able to take a self-guided tour of local businesses, and arts and cultural spaces.
Special thanks to Diane Turner, Vernard Alexander and Homewood-Brushton Business Association (HBBA) for their partnership in the coordination of this year's event. We couldn't have done it without you!
Many thanks to Jack Bellas, Eileen French Jordan, and their team at Revive Marketing Group who did a wonderful job, as always, pulling the whole thing together.
Kudos to NEXTpittsburgh on its recent coverage of Homewood, featuring the people, businesses and organizations, and places supporting community revitalization.
NEXTneighborhood is an initiative created by the Mayor's Office, URA, and NEXTpittsburgh, designed to showcase emerging neighborhoods in Pittsburgh and promote affordable housing. The program consists of 2 days to celebrate and highlight neighborhood culture, businesses and amenities, as well as affordable homes for sale, in an effort to attract new residents and consumers to the neighborhood.