Back to News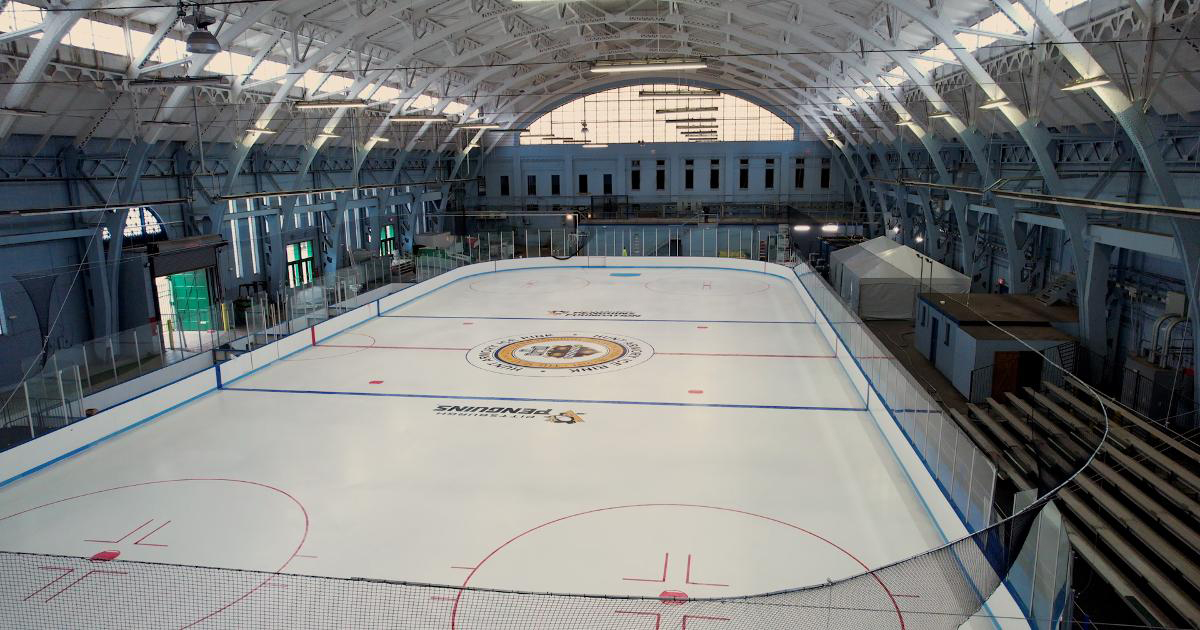 Penguins, City and URA to Cut Ribbon on Seasonal Ice Rink at Hunt Armory
November 22, 2021
Following months of work, the Pittsburgh Penguins, City of Pittsburgh and Urban Redevelopment Authority of Pittsburgh are joining today to do the ceremonial ribbon-cutting opening the seasonal ice rink at the historic Hunt Armory in Shadyside.
The rink, which will be open to the public from November 26 through March 1, is the first public ice rink built within the city limits in decades, and will support equitable and inclusive hockey programming for Pittsburgh youth. All costs of the rink's installation and operations are being supported by the Penguins, at no public expense.
"The Hunt Armory ice rink is one of the largest community projects the Penguins have ever taken on, and it will be worth it for the boost it will give to youth hockey in the city, especially among kids of color," Penguins President David Morehouse said.
Repurposing the 46,500 square foot Armory as a seasonal rink required the temporary placement inside of 48 tons of sand for a base layer, dasherboard and glass installation, ice design, seating, tenting for locker rooms, and establishing utility services.
Every day from November 26 until March 1 it will host public skates, introductory hockey programs, hockey leagues, and hockey diversity initiatives from the Pittsburgh Penguins Foundation.
Shadyside residents had indicated that a rink was their preferred reuse of the 1916 building. It was also a longtime vision of Mayor William Peduto.
"Finally, this longtime gem of the Shadyside community is being opened up for all the city to enjoy, through the great game of hockey," Mayor Peduto said. "I can't wait to put my skates on and join in."
Partial funding for the rink came from a grant from the National Hockey League (NHL) and the National Hockey League Players' Association (NHLPA) to support efforts to create access to the game of hockey for youth players of color in city neighborhoods. The rink will provide space for the Penguins' Hockey Diversity Plan, which includes Pittsburgh Community Puck Partners, an afterschool program in which youth at select Citiparks Rec Centers are learning the basics of hockey.
"We've waited years to see the Hunt Armory become animated again, and I can't think of a better way do so than with a community gathering space like this," said Councilperson Erika Strassburger. "This rink and the Penguins' programming will provide an excellent opportunity to welcome children and families from across the city to Shadyside and to build bridges to other communities."
"The URA purchased the Armory in 2019 to ensure that any future use would preserve the historic nature of the building and take into consideration what best serves the community," said URA Executive Director Greg Flisram. "We are excited to see how Pittsburghers react to this unique opportunity to enjoy the facility."
In addition to the introductory hockey programming, the Penguins Foundation will be hosting regularly-scheduled community skating opportunities for youth and community groups throughout the region, at no cost to participants.
Other programs and leagues using the rink include:
Pittsburgh Warriors (Veterans ice hockey program)
Pittsburgh I.C.E. (Inclusion Creates Equality)
Hockey Sticks Together Programs
Learn to Play classes
Learn to Skate classes
Pennsylvania Interscholastic Hockey (PIHL) practices
Pittsburgh Amateur Hockey League (PAHL) practices
Public skating sessions will be from 7-9 p.m. Fridays; 2-4 p.m. and 7-9 p.m. Saturdays; and 2-4 p.m. Sundays. Tickets must be purchased in advance at huntarmyicerink.com Skates will be available for rent.
Visitors are urged to arrive at the building at 324 Emerson Street by walking, biking or public transit - all transit options are available for review at the city's Transit app. Motorists can use the Eastside Bond Garage and take a free shuttle to the rink during public skating sessions. More details are available at huntarmyicerink.com.
Hunt Armory Ice Rink Ribbon Cutting - November 22, 2021