Back to News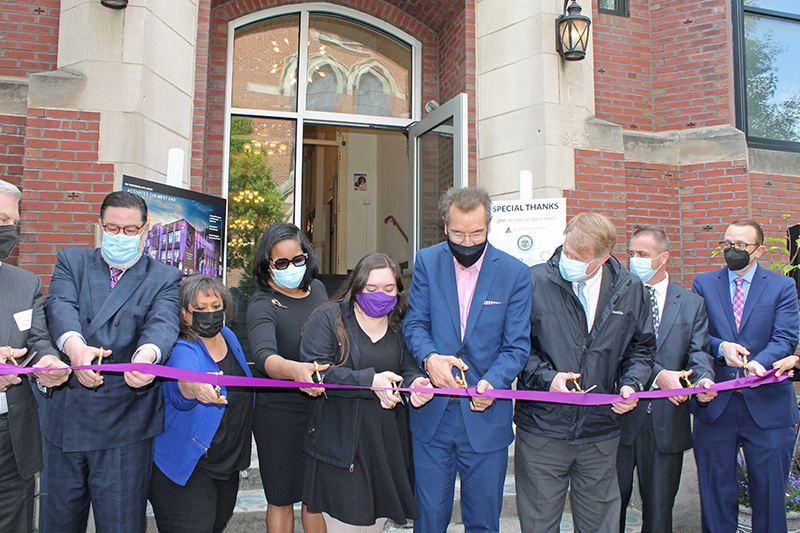 URA, City of Pittsburgh and Key Stakeholders Celebrate Revitalization of the Pittsburgh Musical Theater
May 11, 2021
Today, the URA, along with Allegheny County Executive Rich Fitzgerald, Mayor William Peduto, Council President Theresa Kail-Smith, and other elected officials and key stakeholders joined the Pittsburgh Musical Theater and its students to celebrate the ribbon cutting of major improvements to the historic building in the West End neighborhood.
Located at 327 South Main Street, the Pittsburgh Musical Theater (PMT) has provided quality, affordable musical theater to the Pittsburgh region, educated youth in the arts and employed and developed local talent since 1990. The PMT's programs bring over 8,500 people to the West End annually.
PMT purchased its building in a state of disrepair in 2013 and has since replaced the roof, installed an accessible rehearsal space, and repaired and corrected water damage. This project addresses Phase I in its master building plan.
Funding for this project included a $94,360 grant as part of the URA's Neighborhood Initiatives Fund (NIF) program. The NIF program was designed to help unlock the economic opportunity and placemaking potential within neighborhoods by allowing communities to access funding for neighborhood-scale projects, particularly those in Community Development Block Grant eligible communities.
NIF-funded renovations at the PMT building included the replacement of the main window, storefront, and exterior doors, and the installation of ground-level flood vents. Additional funding was provided by Allegheny County's Community Infrastructure and Tourism Fund (CITF) and RAD.
"Congratulations to PMT on this investment in the West End neighborhood. This is the core of what the URA is doing now, looking at ways to take the funding that we receive from the Mayor's Office and redistribute that funding in a way that is equitable and that is driven by neighborhood vision," said URA Deputy Executive Director Diamonte Walker.