Back to News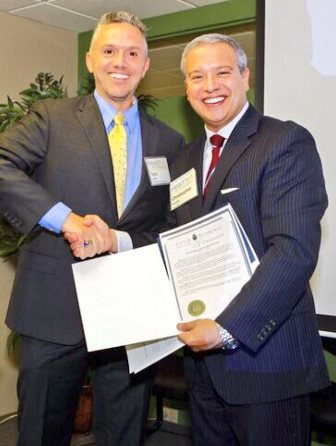 URA Out and About in October 2018
November 1, 2018
September 27: Eden Hall Foundation hosted an event for nonprofits in the Pittsburgh and Greater Pittsburgh area. The event focused on public sources available for capital projects. The URA's Rebecca Davidson-Wagner, president of PUI, did a presentation on New Markets Tax Credits (NMTC). In addition, presentations on CDBG, CITF, GEDF, RACP, and NAP Credits were given to the group.
October 3: Jessica Smith Perry, Housing Opportunity Fund (HOF) director, and Bethany Davidson, land recycling manager, spoke at the PCRG membership meeting about the HOF and Pittsburgh Land Bank.
October 3: Jessica Smith Perry spoke at the Grounded Solutions National Intersections Conference held in Pittsburgh. The conference focused on the creation of Community Land Trusts and other permanent affordable housing mechanisms.
October 4: Claren Healey, development officer, Rich Snipe, community lending manager, and Lisa Moses, MWBE program specialist, were out at the Fairywood monthly community meeting.
October 5: Center for Innovation and Entrepreneurship staff hung out in Bantha Tea Bar as part of URA in Your Neighborhood: Garfield edition. Staff shared information about our financing programs and resources for new and existing businesses.
October 8: Tom Link, director of CIE, helped kick off Health IT Pittsburgh by sharing a proclamation of Pittsburgh's National Health IT Week October 8-12, 2018 on behalf of Mayor Peduto. Pittsburgh Life Sciences Greenhouse recently launched HealthITPittsburgh.com to help build a cohesive cluster, support startup companies, and promote workforce development in Health IT across the greater Pittsburgh region, and it is spearheading a new cluster initiative, Health IT Pittsburgh, positioning the city as a global innovation hub for Health IT. Photo here.
October 15: Jennifer Wilhelm, assistant director of CIE, joined Allegheny Conference for their Pittsburgh Innovation Tour to help media learn about the innovation happening at Carnegie Robotics, Astrobotic, Bossa Nova Robotics, RE2 Robotics, and Near Earth Autonomy. Photos here.
October 16: Siena Kane, facade development specialist, presented at the Think Beyond the Bank workshop, to discuss URA funding and programs for small businesses.
October 16: CIE staff attended AlphaLab & AlphaLabGear Demo Day.
October 17: Staff visited PG&H, a new pop-up shop, for its opening day in the URA-managed space at 536 Smithfield St., Downtown. The site will rotate furniture and home goods from local makers, artists, and designers and host workshops, how-to-sessions and more. Photos here.
October 18: Bethany Davidson and Rich Snipe were guest speakers at the Omincelo Real Estate Co-powerment class, talking all things land use, URA and real estate.
October 21: The URA's Susheela Nemani-Stanger, economic development director, and Allegheny County Economic Development hosted a tour of Pittsburgh's brownfield sites for the Rail~Volution conference, including: Carrie Furnace, Homestead Waterfront, Hazelwood Green, Pittsburgh Technology Center, and SouthSide Works. Photos here.
October 23: Josette Fitzgibbons, URA neighborhood business district manager, attended a Rail~Volution Trolley Towns Tour. Photo of a stop in Beechview here.
October 23: URA's MWBE team attended the GACO Procurement Opportunities Fair in Monroeville to network and discuss with attendees how we connect minority and women-owned firms to opportunities in Pittsburgh. Photos here.
October 25: Julie Edwards, real estate officer - community coordinator, Laya Mathews, project development specialist, and Bethany Davidson spoke at the Hill District quarterly community meeting about 2019 in the Hill - updating the Master Plan and Centre Avenue RFP.
October 29 & 30: Housing Department Staff (Chuck Alcorn, Jarmele Fairclaugh, and Sharon Taylor) and Housing Opportunity Fund Staff (Evan Miller and Jamie Reese) attended the Housing Alliance's Homes Within Reach Conference in Harrisburg. Housing professionals from across the Commonwealth gathered in Harrisburg to discuss how to make housing more affordable for Pennsylvanians.
October 30: CIE staff were on E. Carson Street and at the South Side's Visitor's Center, as part of URA in Your Neighborhood, to meet with folks who wanted information about business resources and financing programs.