Back to News
We ♥ Affordable Housing
​February 2018 Newsletter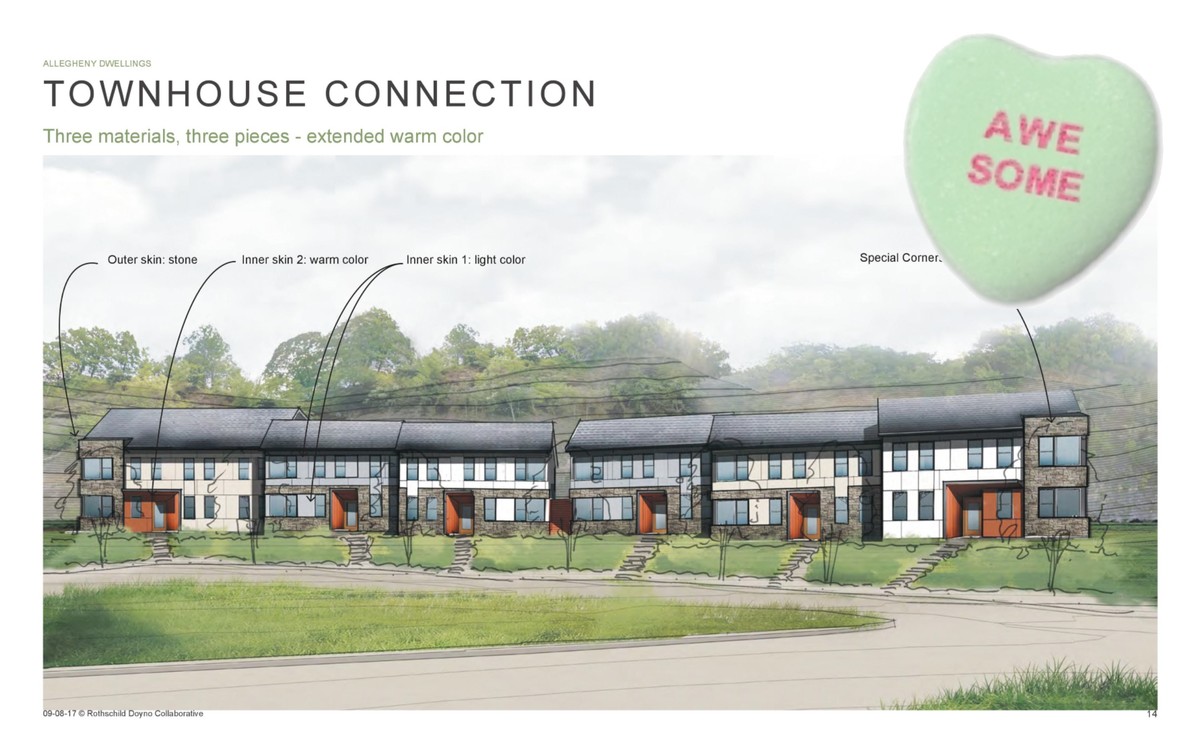 The last two weeks of 2017 produced and/or preserved almost 200 affordable housing units in the city!
As the holidays were nearing, the URA Housing and Real Estate departments, the Housing Authority of the City of Pittsburgh (HACP), private lenders, and private developers were busy at work to preserve and create new affordable housing units throughout the city.
On the Northside, 75 existing affordable units in the 324-unit Northside Properties portfolio (primarily in California-Kirkbride and Central Northside) were preserved for another 30 years. Through a recapitalization strategy, which included an allocation of 4 percent Low Income Housing Tax Credits from the Pennsylvania Housing Finance Agency (PHFA), the issuance of tax exempt bonds by the URA, $1.3 million of financing from the URA, and several other private and public sources, the 75 units will undergo significant rehabilitation. Renovations will include new roofs, windows, flooring, appliances, and updated kitchens and bathrooms. Most of the units will be gutted and reframed. All units will be rented to households with incomes at or below 60 percent of the area median income (AMI).
Also on the Northside, Trek Development, and Allies & Ross Management and Development Corporation (ARMDC) closed financing to begin the construction of 65 new units on the former Sandusky Court portion of Allegheny Dwellings and other nearby sites in the Fineview neighborhood (ARMDC is the non-profit development instrumentality of HACP). Of the 65 units, 47 will be affordable to households at or below 60 percent of AMI and will serve as the first phase of replacement housing in the redevelopment of Allegheny Dwellings. Financing includes a loan from the URA in the amount of $500,000 and over $20 million in other private and public sources. The URA also sold some land to HACP to be included in the development.
In the Central Business District, the URA and HACP worked together to preserve 28 affordable single-room occupancy units in Wood Street Commons. The URA provided a grant of $180,000, and HACP provided a grant of $125,000 and will administer a HUD commitment of project-based Section 8 subsidy for the 28 units. HACP already provides project-based Section 8 subsidy for 65 units. These commitments will enable accessible improvements to be made to the units. The 28 units are part of a larger, all affordable 258-unit building.
Finally in Homewood, the URA sold land to HACP for the new construction of 58 rental units of which 42 will be affordable and 16 will be market rate. Known as Kelly Hamilton, KBK Enterprises and ARMDC will be developing these mixed-income units in close proximity to the Homewood Library, the Afro American Music Institute, Homewood Station, and the busway.
To Read More About the Allegheny Dwellings Development...
KeyBank provides $16.6M in financing for new affordable housing property in Pittsburgh. Read more.