Back to News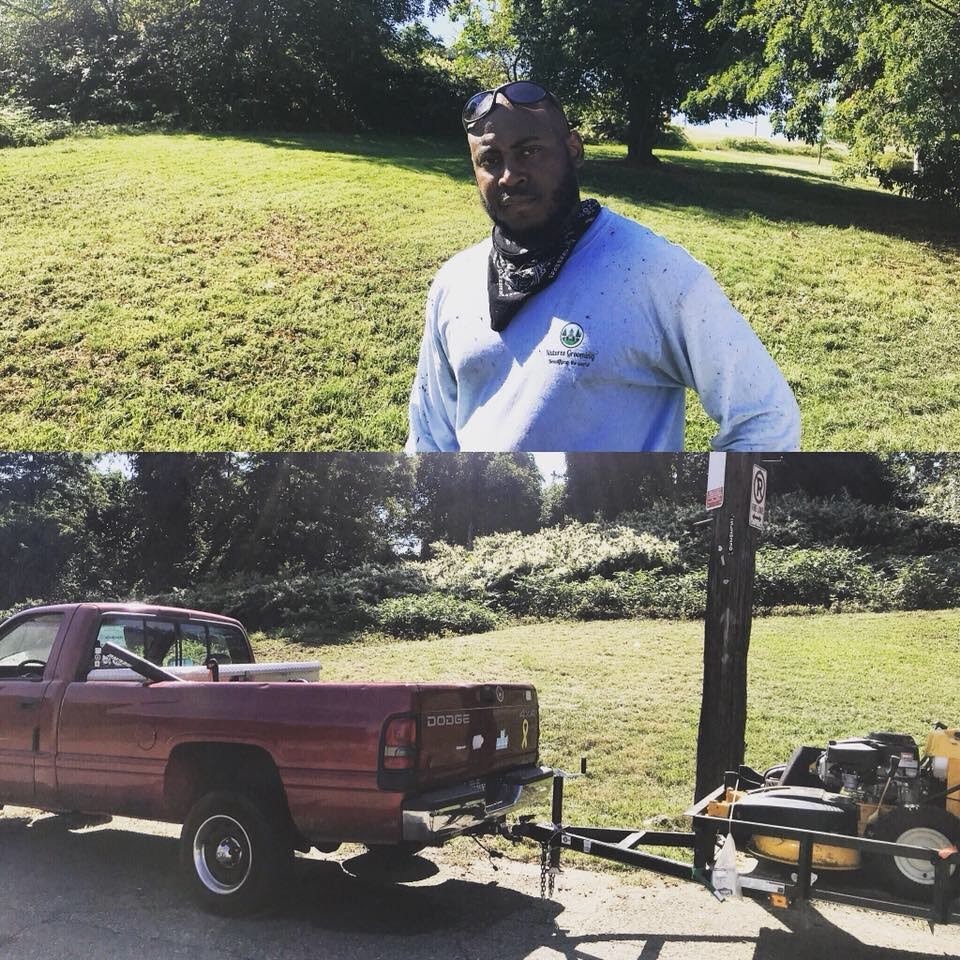 A Bundle of Lots...and Thanks
November 2018 Newsletter
LandCare: Part 2 – Jamar Cox, A Success Story
Last month we talked about the URA's LandCare program and how we're investing in local individuals and positively impacting communities. URA staff that are part of the LandCare team are consistently evaluating the program and working to improve efficiencies.

Within the past couple years, URA's Real Estate and Engineering and Construction departments brought on the MWBE and CIE departments to help rewrite RFPs and RFQs to be more open to small businesses, experiment with procurement procedures, understand barriers to small businesses, and prepare contractors for the following year of a new program cycle. Our partner Grounded Strategies assisted the contractors with their applications.

"Everyone who came to the 2018 pre-proposal meeting was provided the option of technical assistance. We want to show businesses 'this is how you position yourself to respond to an RFP.' We are improving the program through outreach and technical guidance, so we can better interact with businesses," said Bethany Davidson, URA manager of land recycling and LandCare project manager since 2016.

"Essentially, those firms get their foot in the door and for some, business opportunities with the URA then expanded."

Larry Landy, URA construction manager, added, "Once firms learn how to contract, they are well situated to do it again for future business opportunities. This wouldn't be possible without URA's interdepartmental teamwork and stewardship."

So, what happened when the four departments came together and focused on business development? The URA bundled the LandCare contracts into smaller groups of land so that small and diverse contracting firms were able to bid. This made opportunity accessible to those who wanted to venture into starting or growing their own business but faced barriers, such as access to capital.

Take Jamar Cox of Nature's Grooming, for example. Jamar started in the LandCare program as a crew member with Ervin Home Beautification. After being on the crew for two years and receiving encouragement from Sam Ervin, he decided he wanted to start his own landscaping business.

Jamar was referred to Diamonte Walker, URA's MWBE program officer and director of performance and compliance. The two met in a coffee shop in the Hill District to understand how she could support him.

From there, Jamar followed her recommendations to go through the Diversity Business Resource Center and the Riverside Center for Innovation BizFIT Program to form his new business. Jamar went through the classes, got Section 3 certified and worked with Diamonte for six months to be able to respond to the summer of 2018 LandCare Year 3 RFP.

"Diamonte was a huge help in getting me ready for the start and growth of my business. She always let me know important events that were coming up; put me on the right path for obtaining my MWDBE certification; and advocated for me regarding my work ethic, professionalism, and quality of work," said Cox.

"Our work at the URA is relationship-based, because to us it's about equitable development, and the LandCare program is a perfect example," Walker said. "When Jamar came and communicated his dream to me, I gave him guidance throughout the process. I like to leave people better than I found them, and Jamar was willing to do the work."

Cox continued, "The technical assistance provided through Grounded and Anna Archer was vital to the success of my business. I took necessary steps to ensure that Nature's Grooming was legal and documented with the city and state for tax and insurance purposes, which without that I wouldn't have the opportunities that I have now."

Cox was ready in time to bid on a LandCare bundle as a prime and is now working on a bundle of land in his neighborhood, the Hill District.

"Working in the neighborhood in which I was born and raised is amazing. I feel that I am giving back to a community that has given me so much," Cox said. "I have constant communication with residents and business owners. I am always being complimented on the great job I'm doing and how clean and neat the lots are, which makes me feel proud to do what I am doing."

Walker notes that in neighborhoods, the green space around residents has a physiological impact.

"The URA takes its accountability to be good neighbors seriously. By being a responsible steward of the land that we own, we contribute to the physical wellbeing of the people that live in that neighborhood," said Walker.

Next month: Moving forward