Back to News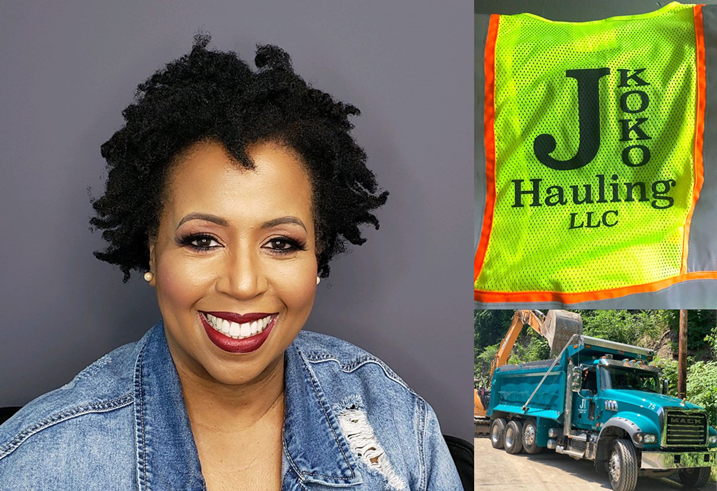 Business Spotlight: J KoKo Hauling
August 2020 Newsletter
"The URA was a 'business saver' for me. I needed that ELF cushion to get through that shut down period. I was so relieved when the deposit was made. The support from the URA has been amazing."
J KoKo Hauling LLC is a Tri-Axle Dump Truck service company based in Pittsburgh, PA. It provides dump truck transportation of dry bulk commodities, raw materials, construction and demolition waste, scrap metals, stone, dirt, sand, and more.
What sets J KoKo Hauling apart from similar businesses is that is a veteran, minority and woman-owned enterprise. What gives J KoKo an edge of advantage is that the owner of the business, Jill Smallwood, is also its operator.
"I think it's exceptional when you can fully operate the business you promote," said Smallwood. "I came to the business with a Commercial Driver's License and experience in operating a large commercial vehicle. Our goal is to become a primary hauling resource in Allegheny County and surrounding communities."
Formerly a bus operator for the Port Authority of Allegheny County, Smallwood resigned from her position on June 22. On July 29, she posted to her Facebook page: "I started a new chapter in my life. I am now a proud entrepreneur and owner operator of J KoKo Hauling LLC. I began physically operating by truck on June 24, 2019 and I have no regrets. I'm learning something new every day and meeting someone new every day. I am grateful to God for another opportunity to re-create myself."
J Koko's first season was close to perfect. Smallwood worked from 6/24/19 to 3/11/20 with little interruption and was happily enjoying her new adventure. Then COVID-19 showed up.
"Prior to COVID-19 I was so concerned about the winter weather cutting my season short. Never did I imagine a virus would shut my business down per orders of the Governor."
The shutdown gave Smallwood the opportunity to address administrative responsibilities for the business. She was forced to begin working on all those things she had avoided due to work and recent holidays.
"I never believed this virus was going to affect my business as long as it did. I was out of work from March 12, 2020 to May 1, 2020."
Smallwood learned about the URA's COVID-19 Emergency Loan Fund (ELF) via local news.
The *ELF provided 0% interest rate loans - up to $15,000, with no fees, 3-year term, 6 months no payments, and 2 ½-year full amortization for City of Pittsburgh small businesses. *The ELF program is now closed.
"Jill and J KoKo Hauling were already clients of the URA. Our clients are businesses we deeply care for, and are connected to, and who we hoped would use this program to help get them through the most difficult months of the pandemic," said Siena Kane, URA Lending Analyst. "We are so happy that Jill decided to apply for our ELF loan and hope that the loan will allow J KoKo Hauling to sustain and grow in its first year of business and beyond."
​"When I received this loan, I took my first sigh of relief. I was grateful and I remember getting emotional about not having to worry about the months ahead," said Smallwood.
"I have enjoyed working with all the staff at the URA. So many people have deposited good things / positivity into me and my business. Siena was just the icing on the cake."
With the loan funding, Smallwood paid for registration, truck inspection, tires, maintenance and a host of things that were needed. Based on the size and expense of her equipment, things needed to be replaced, repaired, or made right for the upcoming 2020 season; this included insurance renewal.
"I had/have a stack of receipts and invoices collected for my accountant. I paid for professional services as well so when it was necessary to provide 2019 numbers for several loan applications, they were easily accessible."
She continued, "The URA was a 'business saver' for me. I needed that ELF cushion to get through that shut down period. I was so relieved when the deposit was made. The support from the URA has been amazing. I thank God for this organization and the opportunity to grow my business with their professional and monetary support. I truly believe it takes a village to raise an entrepreneur."
---
Fun fact (from the company's Facebook page):
What's in the Company Name of J KoKo Hauling LLC?
The J is for Jill, the owner's first name.
KoKo represents the small city of Kokomo, IN where the owner was born and raised. Kokomo is approximately one hour north of Indianapolis, IN where the best pork tenderloins in America are fried.
The owner's grandchildren affectionately refer to their great Grandmother as Grandma KoKo who was also born and raised in Kokomo, IN.
Follow J KoKo Hauling LLC on Facebook @JKoKoHaulingLLC.