Back to News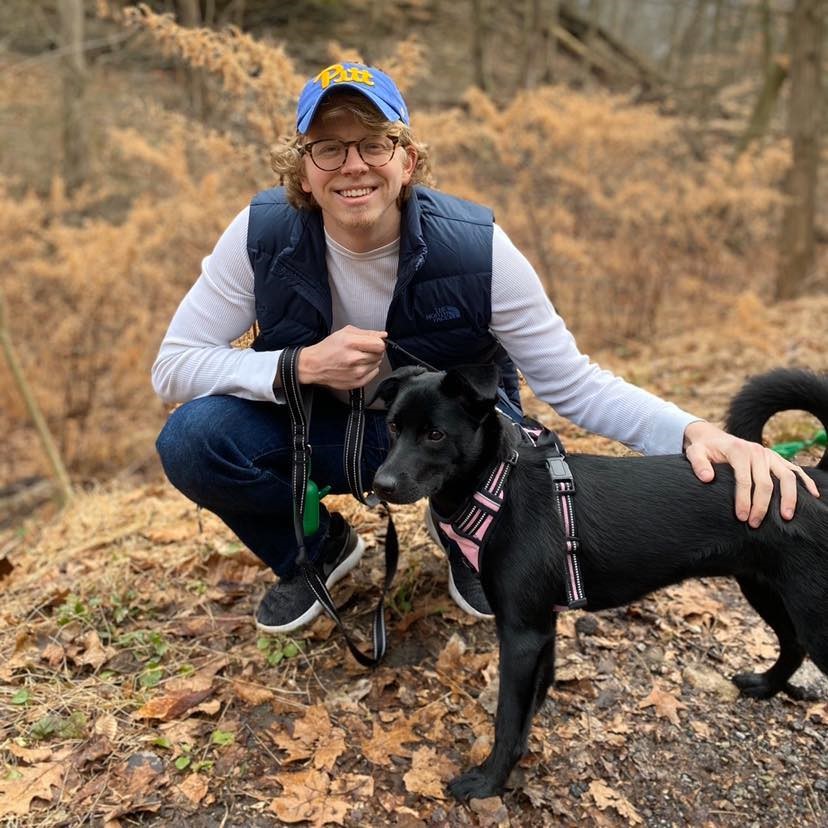 Get to Know: Brett Morgan
August 2020 Newsletter
Job title: Lending Analyst
What you actually do: I work with developers who are interested in applying to the URA's Housing Opportunity Fund (HOF) and other URA residential lending sources for the purpose of building and/or preserving affordable housing throughout the City of Pittsburgh. As a result, I have also been provided the opportunity to update various program guidelines, coordinate the URA's Request for Proposals (RFP) process, and work collaboratively with the City and other authorities on Environmental Reviews and Historic Preservation.
Years at URA: 1
Best thing about working at the URA: Easily, it would be my co-workers at the URA. I am lucky enough that I have been able to work with staff across departments on various projects and have learned so much in the short time I've been here simply due to the collaborative work environment. The URA truly gives you the opportunity to take a project and make it your own, but also bring in others when needed to determine creative and unique paths forward. The Residential Lending team in particular makes every day interesting!
Favorite project/Most satisfying moment in career: I don't necessarily have a favorite project, but in the year that I've been with the URA I can say that the most satisfying thing is seeing the direction we are headed. I am extremely proud of the work we are doing, particularly through the HOF. I have worked on projects where developers have included affordable units (when not required) just for the sake of furthering the City's mission of creating and preserving fair and affordable housing. I am also proud to be able to work collaboratively with so many fantastic community development corporations around the City.
Education: I graduated from Pitt in 2015 with a bachelor's degree in History and Political Science. I then continued on at Pitt where I graduated in 2017 from the Graduate School of Public and International Affairs (GSPIA) with a master's degree in Public Administration (concentration in Urban Affairs & Planning).
Where you were before the URA: Prior to working at the URA, I worked as a planner for the Waccamaw Regional Council of Governments (WRCOG) in Georgetown, South Carolina for two years. With WRCOG, I worked on a variety of projects involving comprehensive planning, community development, and environmental/sustainability planning.
If you were boss for the day: Despite how little I would actually get done, it would have to be bring your pet to work day.
The Boss says: "Brett has been an incredible addition to the team. He is nimble, thoughtful, and a great team player. His communication (written and verbal) skills are invaluable in navigating our complex projects. I'm excited to see Brett evolve professionally over the next year." - Shaina Madden, assistant director of Housing Lending
If you weren't at the URA you'd be...a writer, working on comedy or covering sports (or both?!).
First job: I worked at the Cool Spring Golf Center driving range in the South Hills when I was 15. I only ended up working there for a month or two, mainly because I spent too much time hitting golf balls.
Favorite Pittsburgh spot: Walking across the Clemente Bridge to PNC Park before a Pirates night game
Favorite restaurant: There are too many good spots to narrow it down to just one! My go-to places are probably Noodlehead, Showcase BBQ, and Uncle Sam's.
What you like to do when not at work: I like to golf, play ultimate frisbee, disc golf, and softball, and take my dog to the Highland Park/Frick dog park. Lately, I've been trying to teach myself guitar (with some minor success). I also run, though I wouldn't necessarily say that I like it. Let's be honest.
Secret vice: I'm a sucker for reality television. I know it's fake, but how can people not find the "Bachelor(ette)" entertaining?
What three words describe you best: Motivated, imaginative, thoughtful
What you're currently watching on Netflix: I recently finished "The Last Dance" on Netflix and just started the 1994 Ken Burns documentary miniseries "Baseball" on PBS. I didn't realize it had an 18.5-hour run-time before I started it, but here we are.
What song do you have on infinite repeat?: "11th Dimension" – Julian Casablancas
Three favorite foods or three things always in your refrigerator: Chicken parmesan, buffalo wings, and pulled pork; Sadly, for the sake of my health and general well-being, these things are rarely in my refrigerator.
Three people (living or dead) you'd like to have dinner with: John Lennon, Julian Casablancas, and Dave Grohl
Actor who would play you in a movie: Owen Wilson if for nothing else but the blonde locks
People would be surprised to know that I…have played the trumpet for 13 years, was a member of the University of Pittsburgh Varsity Marching Band and am a true band geek at heart. I actually try really hard not to tell people "This one time at band camp…" stories at work.
Family: My family is originally from Pittsburgh, and my dad is still in the South Hills. My brother and his family now reside in Charlotte, NC, and my sister and her family are out in St. Paul, MN. After visiting my sister and living in the south for two years, I've come to acquire a deeper appreciation of the Pittsburgh climate. You really get the get the best of both Charlotte and St. Paul, just without the blizzards and hurricanes.
Pets: I have a one-year old puppy named Kaya. She is a labrador retriever/border collie/Australian Shephard mix and yes, she is the cutest dog on the planet.
Contact Info: bmorgan@ura.org, 412-255-6653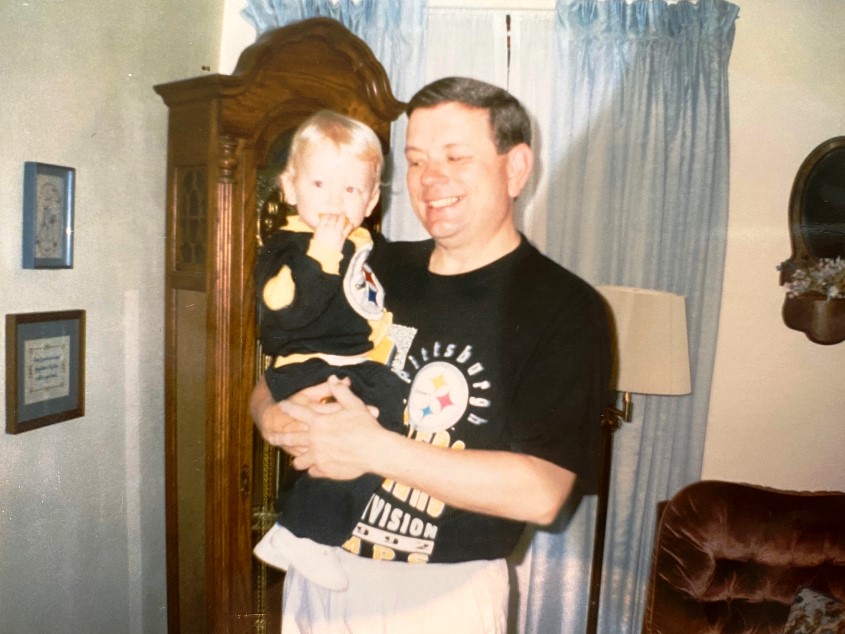 Brett with his dad, James, on Steelers Sunday (October 1994)