Back to News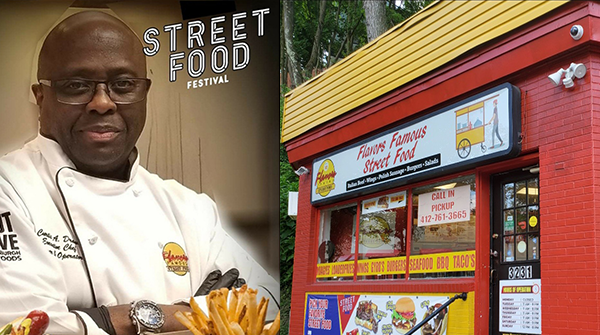 GOGO Business Spotlight: Flavors Famous Street Food
September 2020
"COVID-19 was an eye opener and educational tool for my business."
Curtis Drane, owner of Flavors Famous Street Food and participant of the URA and Neighborhood Allies' Get Online and Grow Online Program, mobilized his social media and advertising with the help of GOGO technical assistance and even increased sales by 40%!
Here's a Q&A in which he discusses the challenges and growth his business has experienced the last few months.
Can you tell us about your business?
Flavors Famous Street Food is a restaurant that was created for what Pittsburgh and its new and growing surrounding communities are asking for…VARIETY and FLAVORS. With its famous "street food," Flavors brings immigrant and American time-tested global food favorites and cooks them fresh under one roof.
Offerings include:
"Chicago street style" Italian beef
Jim Shoe hoagie
Pizza puffs
Street tacos
Wood smoked BBQ
Deep fried ocean perch
Golden fried shrimp
And vegan and vegetarian offerings
These are much wanted time-tested popular foods that originated from food festivals, to food carts and now food trucks. This is what Flavors Famous Street Food is all about.


How did you find out about the URA and Neighborhood Allies' Get Online and Grow Online (GOGO) Program?
Due to my constant efforts of advertising on social media I was connected to the URA through Vernard Alexander, who was also my GOGO technical assistance advisor. Vernard was a pleasure to work with. Very knowledgeable.
What did you want to gain from the GOGO program?
I wanted to gain any new cutting edge skill sets that could give me the upper hand in seeking a successful and profitable restaurant online.

What has your biggest challenge been to expand your digital/social media presence, especially in the days of the COVID-19 pandemic?
The biggest challenge was taking the time to do it and going into a new space that is unfamiliar to most, especially when this will be a big part of your income and you never depended on the digital piece to be so important.


Can you tell us about the some of the social media/promotion work you have done since engaging the GOGO program?
Some of the media that spearheaded my success came in bits and pieces until I figured out they work extremely well when strategically executed. Facebook video food reviews, Instagram, TV commercials that aired on BET/ MSNBC/ OWN, promotions on Grubhub, Doordash, Ubereats, and Postmates, and my own website www.flavorsstreetfood.com.
How has this improved your business and/or changed the way you do business?
Sales increased by 40% and I had to hire additional staff.

What was your biggest takeaway from your efforts to build a digital presence?
COVID-19 was an eye opener and educational tool for my business.

Any advice for other small businesses looking to build their social media?
Any small business that is preparing to open should take walk sales as serious as online revenue.

If there's anything else you'd like to share, please do so.
Restaurants should consider alternative ways to serve customers in the design process in the event this happens again. Chick-fil-A makes more money with their dining rooms closed than open…FOOD FOR THOUGHT…
---
The Get Online and Grow Online Program was created in response to the COVID-19 pandemic and aims to aid businesses in implementing new, creative ways to reach their customers. Round II applications closed on September 4.