Back to News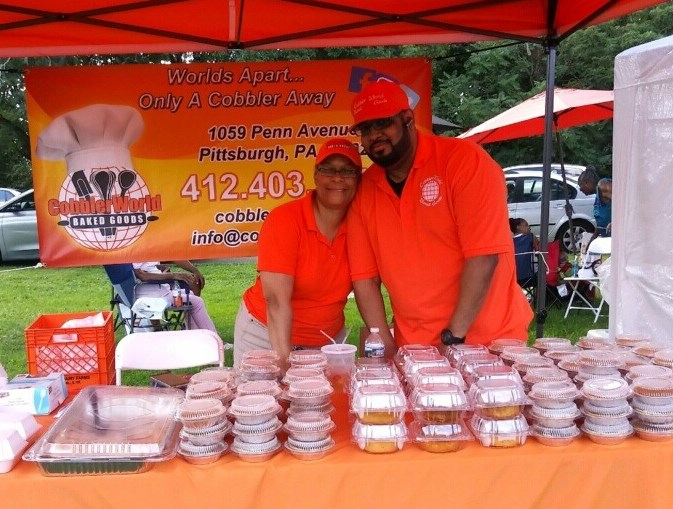 Not Just Pie
September 2018 Newsletter
In April 2018, the URA launched the new Micro-Enterprise Loan Program - a pilot program to provide new and expanding businesses micro-loans of up to $20,000 to help cover costs of working capital, machinery and equipment, inventory, and leasehold improvements, including façade renovations.
So far this year, the Center for Innovation and Entrepreneurship (CIE) has provided $208,371 in micro-loans to 12 startups and businesses, one of which was CobblerWorld.
Sound familiar? You may have seen it around at local events and farmer's markets selling cobblers, pies, cheesecakes, and other baked desserts in unique flavors ranging from personal bite-sizes to larger orders. The minority woman-owned bakery places a focus on nostalgic, old-fashioned confections that are harder to find at present day bakeries.
The URA recently provided CobblerWorld a $15,000 loan for equipment and working capital.
Terina Hicks is founder and chief baker officer of CobblerWorld, and also a participant in the URA-supported Catapult: Start-Up to Storefront Program. She learned about the Micro-Enterprise Loan Program through her mentor Trish Digliodo, co-owner of Paramount Enterprises.
Hicks worked with URA's Senior Business Development Specialist, Rochelle Lilien.
"Rochelle has been an absolute joy to work with. She was very pleasant and knowledgeable about the organization, and desired to see CobblerWorld succeed. She was always available to answer any questions that I had," said Hicks.
"I really enjoyed working with Terina because of her drive and enthusiasm," Lilien said. "CobblerWorld was a perfect fit for the Micro-Enterprise Loan Program, which took the business to the next level not only through funding, but also with technical assistance provider collaboration. I also have to mention that the cobbler and other products are all delicious☺."
With the URA's investment, CobberWorld has been able to rehire a store manager, secure business insurance, stay current with rent, purchase a new, frost-free freezer for the store and new tires for the delivery van, and purchase more supplies. Hicks also plans to amp up marketing efforts.
"This new Micro-Loan initiative is a game changer for small businesses," Hicks said. "The staff at the URA have been great, and I appreciate the confidence they have in my company."
CobblerWorld is located Downtown at 1059 Penn Ave, Pittsburgh, PA 15222. Follow it on Twitter, Instagram, and Facebook.
View the Micro-Enterprise Loan Program summary and guidelines on the URA's site, and call 412-255-6547 to discuss your small business financing needs.