Back to News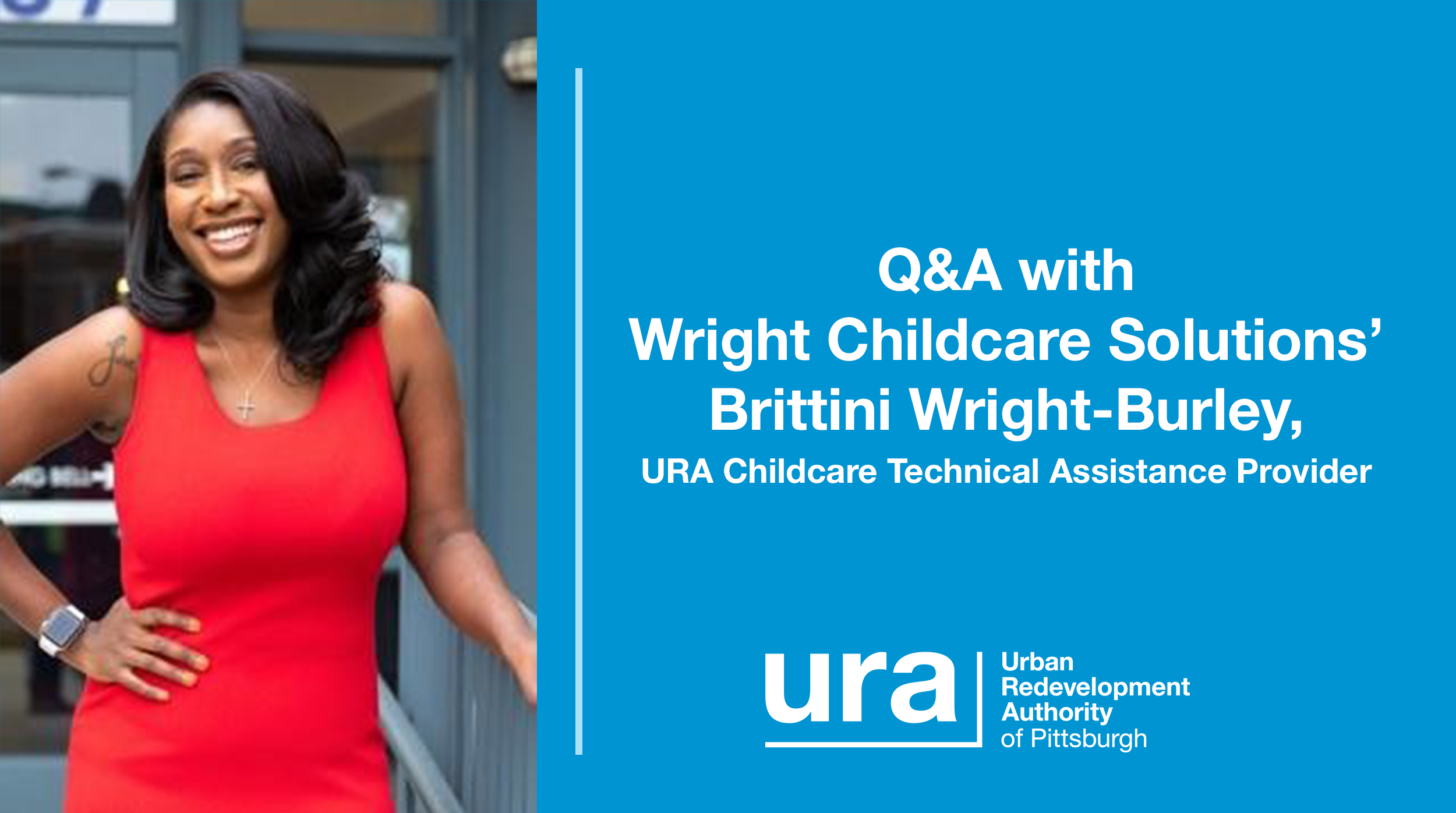 Q&A with Wright Childcare Solutions' Brittini Wright-Burley
July 2020
Brittini Wright-Burley, Owner and Executive Director of Wright Childcare Solutions, was one of the first approved applicants for the URA's Business Consultants RFQ*. Here's a Q&A with her where she discusses her entrepreneur path, navigating the RFQ process, career advice for childcare providers, and owning a business during the pandemic.
Can you tell us a bit about your business and your journey as an entrepreneur?
Wright Childcare Solutions was created in 2011 and is a full-service childcare company servicing the Greater Pittsburgh Area. We specialize in on-site childcare and commercial daycare centers, events and programming, in home and emergency care, and training and curriculum management.
I began my journey in 2011 as a home daycare provider prior to growing into commercial sites and childcare consulting. As an entrepreneur with goals of expanding my business to meet the needs of families in the region that seek quality childcare, I spent the last nine years learning and growing my career in Early Childhood Education and I now serve over 300 families at two commercial Learning Loft Childcare Centers and plan to open a third site this fall to help even more families.
Was this your first RFQ and can you expand on your process to apply?
No, this was not our first RFQ in general, but it is our first time working with the URA. The process has been very straightforward, and we have been paired with individuals that match our expertise which enables us to provide the best service.
How has your experience thus far been with the URA and what would you say to other providers who might be interested in applying for an RFQ in the future?
To date, the experience of Wright Childcare Solutions working with the URA has been positive. The best advice I might offer to other providers interested in applying for an RFQ in the future is to make sure your expertise and skill set match the requirements of the RFQ and clearly specify the assets and human capital that your organization will offer, including what qualities make your organization unique.
Given the current climate, how has COVID-19 affected your experience as a small business owner in Pittsburgh?
As a small business owner in Pittsburgh, COVID-19 affected the way I am able to operate and manage my business and reinforced my perspective on the importance of helping other childcare centers establish strong business operations that can withstand challenging economic circumstances, such as the times we are currently living through.
While I was able to quickly pivot and apply for resources that allowed me to continue providing childcare for essential workers, many of my peers in the region were unable to do so, resulting in difficult business decisions such as employee layoffs and in some severe cases business closure. For me, this experience strengthened my skills in designing agile business practices that are responsive to uncertainty and change, while continuing to center the mission and vision of my organization. Now, I look forward to supporting other childcare centers to do the same through the consulting aspect of my business.
What was your experience like working remotely/under new restrictions through COVID-19? Have you had to pivot?
As a childcare provider to essential workers we remained open during COVID-19 and were able to continue providing care for many of our families. As a childcare provider focused on Early Childhood Education, Wright Childcare Solutions was able to pivot quickly for our families who were not essential workers by providing online instruction for our preschool and pre-kindergarten age children. Through the use of online resources that are already a part of our communication practices, Brightwheel, we were able to assess the needs of our families and design appropriate online resources, such as designated live meeting times where classroom teachers lead students through activities. However, for many of our parents and guardians who are working from home, the ability to do so while also taking care of children is stressful and not sustainable over time.
The feedback that we've received from families confirms that childcare is an essential service and as the pandemic continues, I am working tirelessly to determine the safest ways to provide childcare for families as we approach the start of another school year with incredible uncertainty.
With the new restrictions, we faced many challenges from maintaining CDC protocol to finding enough PPE and cleaning products. These are some of the obstacles I am working to overcome.
What can people do now to support your business or other small business during COVID?
I urge all Pittsburgh residents to intentionally support local, small and minority businesses now and well into the future. Specifically, for Wright Childcare Solutions, one way to support our business is by donating one or more books featuring a protagonist of color to our Early Excellence Project (EEP) initiative**.
The EEP created the Margaret Washington Library to ensure students in lower-income areas PK-5 are exposed to culturally relevant books. The Margaret Washington Library ensures that these students have access to books that create lasting ties to their interest levels and connections with literature. The Margret Washington Library's purpose is to establish a large and significant collection of books featuring characters of color and multilingual texts.
Building a library which focuses on cultural relevance, will promote representation and empowerment in children. Children will have the opportunity to experience characters who look like them as well as gaining a broader worldview by seeing people who are different. The ultimate goal is to increase literacy rates among minority children in the Pittsburgh region.
What inspires you to keep doing the amazing work you do?
I continue to be inspired to provide exceptional childcare services to the families we serve because I understand the overwhelming need for high-quality childcare centers that serve Black children. Although our centers provide care for children from many different cultural backgrounds, Black children are a critical focus in our business.
Countless studies show the importance of high-quality early education programs and the subsequent results in learning outcomes over time. These studies also show how children of color do not have access to many of these high-quality early childhood learning experiences. Wright Childhood Solutions seeks to change this narrative. In addition, I am committed to developing the talents of others through creating job opportunities and developing those who work in my centers to reach their full potential.
What resources or advice would you give to entrepreneurs looking to pursue a career in childcare?
I would tell anyone looking to begin a career in early childhood education that it is imperative that you love children. Centering children and their families is essential to success in this line of work. The money will come, but that should not be your sole objective. Also, developing strong relationships is another key aspect in establishing a thriving career as a childcare provider. Lastly, I would encourage entrepreneurs interested in careers in childcare to network with others who have experience in the industry and connect with resources that will allow them to learn and grow.
Now a fun question - What is your favorite place to eat in Pittsburgh?
It is hard to select just one restaurant! My husband and I enjoy supporting local Black-owned restaurants and one of our favorites is Soul and Sea owned by Brittany and Jermaine Houser!
---
*The URA is requesting qualifications from individuals and consulting firms to provide pre‐loan and post‐loan assistance to businesses going through the URA's Commercial Lending loan process. Specifically, respondents to this RFQ should have experience assisting businesses who are growing or starting a home-based childcare business. Learn more about the Business Consultants RFQ.


**The Early Excellence Project (EEP) is a nonprofit organization serving black and brown childcare centers, bringing equitable resources and support. Its mission is to narrow the opportunity gap and support early childcare centers in receiving resources and accreditations to enrich the learning of Black and Brown children. Learn more.