Back to News
URA Announces Housing Stabilization Program Update
October 8, 2020
To date, 457 households have been assisted; additional 453 clients currently being assisted
PITTSBURGH, PA (October 8, 2020) The Urban Redevelopment Authority of Pittsburgh (URA) announced today that the Housing Opportunity Fund's (HOF) Housing Stabilization Program (HSP) has assisted approximately 457 households and an additional 453 clients are currently in process to receive assistance.
The HSP is one of five HOF programs that were funded through the 2020 HOF Annual Allocation Plan. Each year, the HOF dedicates $10 million in City of Pittsburgh tax dollars to support affordable housing initiatives. The HSP opened in July 2019 and provides financial assistance to households in the City of Pittsburgh who are experiencing a temporary, non-reoccurring housing crisis on a one-time or short-term (up to three months) basis. Assistance during the COVID-19 pandemic has been augmented by funding included in the CARES Act, demonstrating the continuing need for federal action to support local efforts.
Renters with a combined total household income of 50% AMI or below may be eligible to receive up to $3,000 of rental assistance and homeowners with a combined total income of 80% AMI or below may be eligible for up to $6,000 for mortgage assistance. For more information and eligibility requirements, click here.
"Inability to make rent or mortgage payments - whether it's because of a loss of income, large unforeseen expense, or global pandemic - is a threat to a person or family's housing stability that can cause incredible stress. It's stressful to be in a financial predicament and on top of that having to worry that you could lose your home," said Mayor William Peduto.
Peduto continued, "I want to thank the Housing Opportunity Fund and the Urban Redevelopment Authority for working directly with our communities to see that this is a problem Pittsburghers are facing and for designing and implementing the Housing Stabilization Program so that we can ensure our residents have the resources they need to stay in their homes. This need was amplified as a result of the financial uncertainty of the pandemic, and we applaud the URA and HOF's quick response to expand this program."
"We are very proud of the work the URA and its Program Administrators have done as part of the program. The URA has eleven dedicated Program Administrators who work directly with the clients and help them to not only access the program, but also connect the clients to additional programs. Furthermore, the URA has created the Community Ambassador Program which provides additional community connections to clients," said Jessica Smith Perry, URA's director of residential and consumer lending.
The 11 Program Administrators for the program are as follows:
• ACTION Housing
• Chartiers Center
• Goodwill of Southwestern Pennsylvania
• Jewish Family & Community Services (JFCS)
• Macedonia FACE
• Neighborhood Legal Services
• NeighborWorks Western Pennsylvania
• Pittsburgh Community Services Inc. (PCSI)
• Pittsburgh Mercy Operation Safety Net
• Urban League of Greater Pittsburgh
• Veterans Leadership Program of Western PA
• YWCA
Additionally, the Community Ambassadors are Fineview Citizens Council, Hazelwood Initiative, Homewood Children's Village and the Wellness Collective, all facilitated by the firm Omicelo.
Since COVID-19 hit the Pittsburgh region, the HSP has experienced unprecedented demand. On average, the HSP has assisted approximately 60 households per month to prevent homelessness due to eviction or foreclosure. 76% of callers as of October 2, 2020 were still reporting a need for financial assistance as a result of the COVID-19 pandemic. See below for a snapshot of HSP data to date.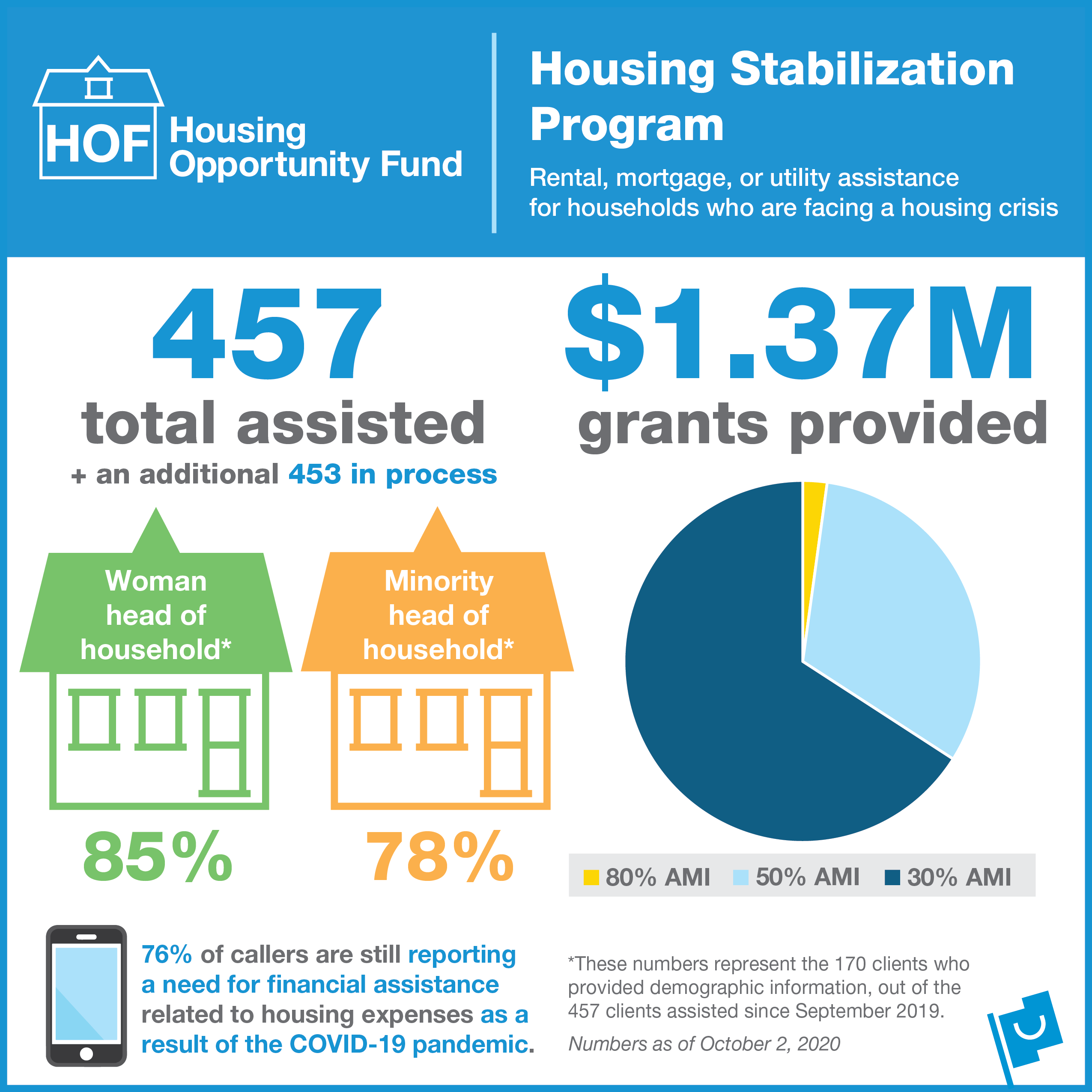 Since April 2020, the United Way of Southwestern PA has served as the program's coordinated entry provider, screening over 1,500 calls and processing referrals for the 11 program administrators. City of Pittsburgh residents who are in need of rental or mortgage assistance, please contact PA 2-1-1 Southwest, powered by the United Way of Southwestern PA to be screened for HSP.

About the Urban Redevelopment Authority of Pittsburgh (URA)
The URA is the City of Pittsburgh's economic development agency, supporting the City's economic development goals, which are designed to create a city of inclusive opportunity for residents, stakeholders, and communities. The URA is committed to creating more housing that is affordable to the average Pittsburgher; encouraging more entrepreneurship and small business development; promoting inclusive growth and quality job creation; expanding neighborhood and main streets revitalization efforts; and developing a talented workforce that is equipped with the skills of the future.
###