Pittsburgh Downtown Conversion Program
The Pittsburgh Downtown Conversion Program provides funding to developers for the creation of new affordable housing in Downtown Pittsburgh through the conversion of fallow and underutilized office space.
About the Program
The Pittsburgh Downtown Conversion Program (PDCP) is intended to stimulate the economic recovery of Downtown Pittsburgh by creating new affordable housing development via the conversion of fallow and underutilized office buildings into housing.
PDCP further seeks to make the Downtown residential community accessible to all Downtown workers, specifically low-to-moderate income households. Under current conditions, many who work Downtown cannot afford to live in the neighborhood, or struggle to find available affordable units. PDCP looks to simultaneously address the lack of quality affordable housing options Downtown and reduce underutilized office space.
Eligible Borrowers
Eligible PDCP borrowers may be nonprofit developers, for-profit developers, or a joint venture, limited partnership, or another legal structure between a for-profit developer and a non-profit entity. All PDCP borrowers must be current on all applicable City, Commonwealth, and Federal taxes. To be eligible for PDCP financing, borrowers must also have no delinquent loans from past URA
projects/investments.
Eligible Projects
Projects must be located within the City's Central Business District (See map for reference).


The project must consist entirely of currently vacant commercial/office space.Involuntary displacement of existing commercial tenants is prohibited.


The property must comply with all applicable zoning requirements.


The borrower must own the property prior to or at the time of PDCP closing.


Projects must rent at least 20% of the units to households at or below 80% of AMI. Affordability must be preserved for a minimum of forty (40) years after PDCPfunded units are available for occupancy, which will be ensured by a Declaration of
Restrictive Covenants to be recorded at financial closing.


URA staff must deem the project to be a feasible residential project, based upon established project underwriting processes.
Funding Amount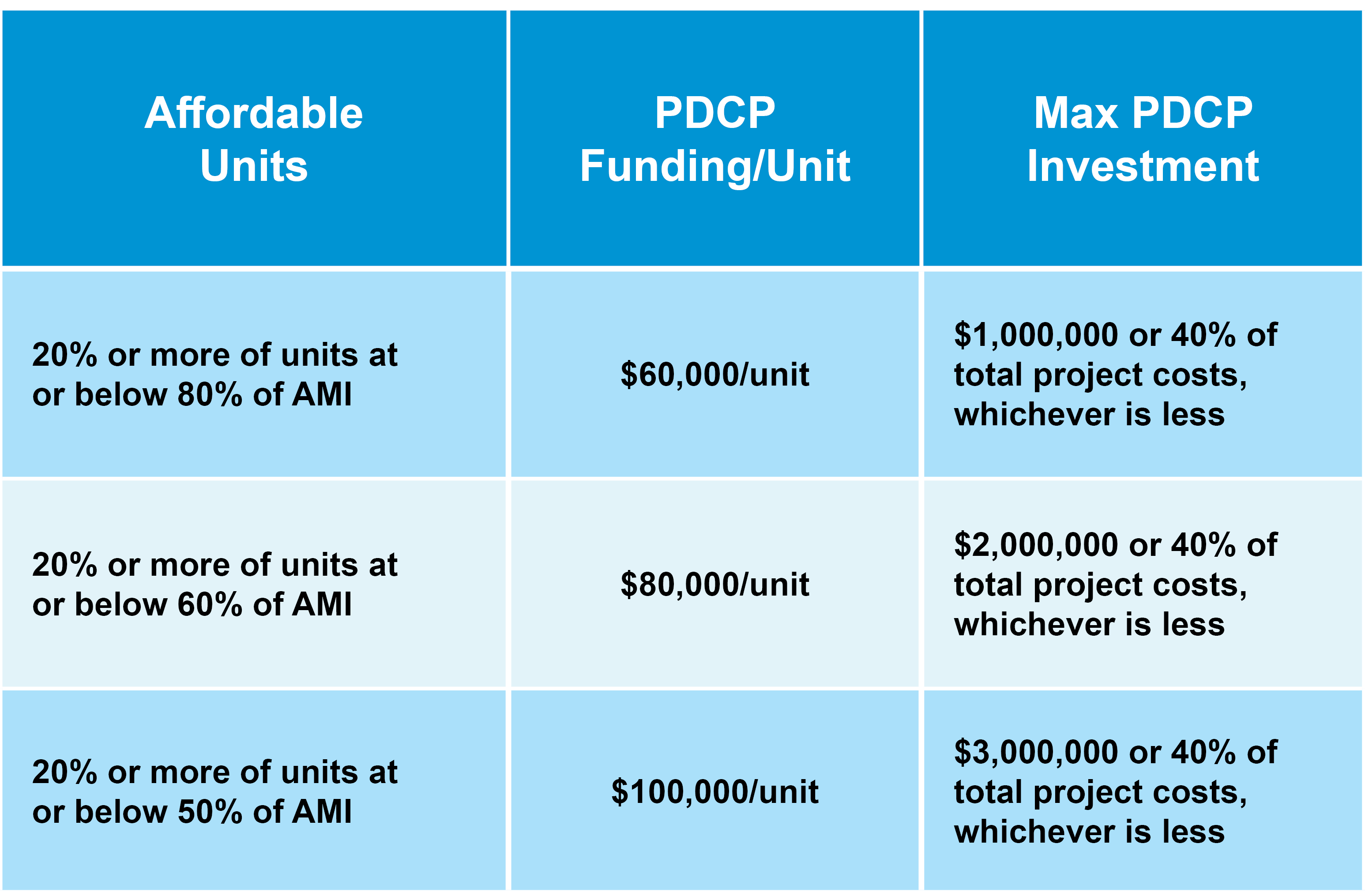 The total amount of funding provided to a project through the PDCP will be subject to specific project details, URA, and Advisory Committee review.
The PDCP prioritizes projects that commit to creating units affordable to households at lower Area Median Income (AMI) thresholds.
The program will also prioritize projects that maximize other relevant public and private financing sources (such a tax credits, private debt, and other tools), as well as projects that commit to deeper affordability by utilizing the Housing Choice Voucher Program offered by the Housing Authority of the City of Pittsburgh (HACP).
PDCP seeks projects that commit to long-term affordability of units at or below 80% AMI, with an emphasis on projects that prioritize leasing and hiring of Downtown workers that earn 60% of AMI or lower.
Program Materials