Back to News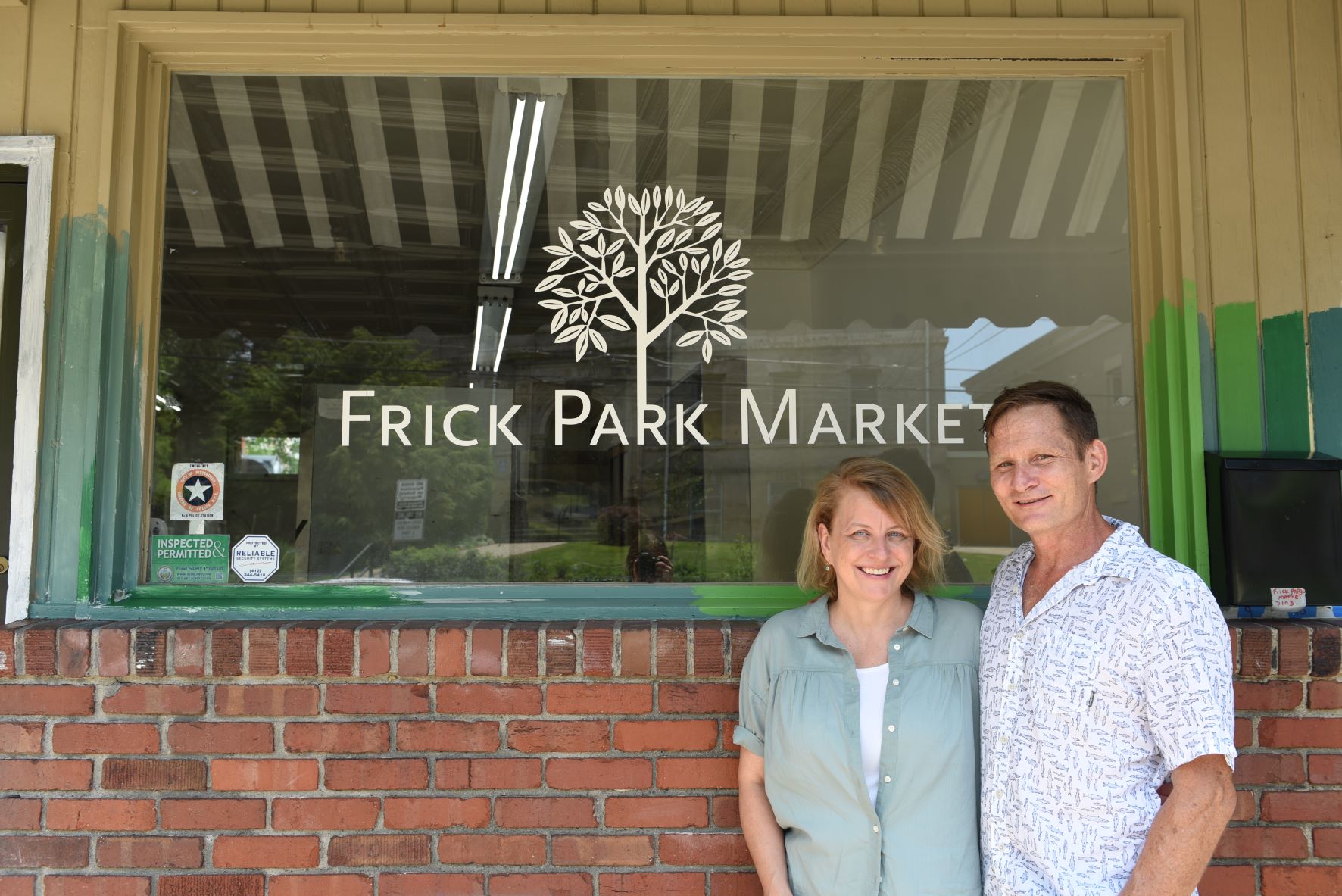 Business Spotlight: New Owners Take on Legacy of Frick Park Market
August 2021
"The URA made this possible. They gave us the loan we needed, advice and more. They made it happen for us."
Whether you are a Pittsburgh local or a Mac Miller fan, you have likely heard of Frick Park Market. This Point Breeze deli is a neighborhood gem with a lot of history and fans. The former owners ran the market for thirteen years before deciding to let someone else take on the legacy. Now under new ownership, the market is trying to expand its horizons.
"We found it about nine months ago, and it was love at first sight," David Gancy said.
Katie Gancy added, "We truly were smitten with the building and business."
David and Katie Gancy, the new owners of Frick Park Market, are no strangers to the industry. David previously worked in food-based businesses with his restaurant, Red Oak Café, in Oakland. After graduating from University of Pittsburgh's Katz Graduate School of Business, he worked with University of Pittsburgh's Small Business Development Center to develop his plan and secure funding for Red Oak Café. The URA provided a $100,000 loan for equipment and working capital. After ten successful years of running the cafe, he decided it was time to move on.
As they looked to the future, the Gancys saw this new opportunity, and both were excited to take it on. During this same span of time, the pandemic hit. They tried all the conventional routes for financing the business, without any luck. It seemed like they were continuously met with roadblocks as they tried banks and CDFIs. This was until they reconnected with the URA through Henry Horn-Pyatt, the City of Pittsburgh's small business and redevelopment manager, who introduced them to the URA's lending analyst Siena Kane.
"For the Red Oak Café, we had bank loans and the URA helped bridge the gap we couldn't. For this one (Frick Park Market) the URA was our primary lender and then helped us find additional gap funding by introducing us to lenders at Bridgeway Capital and Washington County Council on Economic Development. The URA made this possible. They gave us the loan we needed, advice and more. They made it happen for us," said David Gancy.
Kane worked directly with the Gancys to help make their dream a reality.
"I already knew of David from when he worked with previous URA staff and utilized a loan for his first business in Oakland. When he returned to the URA, he wanted to pursue this new opportunity, and we knew how successful he had been before. By looking at Dave's and Katie's experience in the industry and Dave's history with the URA, we were able to listen to their plans. This was a really big dream of theirs, and we are so happy we were able to support them with it," Kane explained.

The URA provided a $385,000 loan through the Pittsburgh Business Fund program to be used towards purchasing the building and the business with its current equipment and inventory.

Both owners said their background in hospitality shaped their desire to take on this project.

"Hospitality is actually how we met. We both went on to travel and work different jobs in hospitality. Dave went on to focus on food. This seemed like the perfect place to bring these passions together," Katie Gancy said.

Katie Gancy's own background as Vice President of her family-owned business, MovieScoop Cinemas, an independent movie theater chain in Pittsburgh, brings a background in family values to highlight their community focus.
"There is so much important history here for the neighborhood and community. We love the history and the community support," Katie Gancy explained.
The building was built around 1900 and was originally an A&P supermarket. Then, it was the Lang Pharmacy before the Fuchs family reopened it as the Frick Park Market in 1940. Now, the Gancy's want to forge their own legacy while maintaining the integrity of the original shop. Currently, they are renovating the space and plan to reopen in the fall.
Another major aspect of Frick Park Market's identity has been its connection to Malcolm McCormick (Mac Miller). Mac Miller was a Pittsburgh local who went on to become a famous name in the music industry. The iconic music video for the song "Frick Park Market," written by Mac Miller, was filmed in the very same place. It has become a place that Mac Miller fans travel near and far to see and pay their respects. The Gancys are extremely grateful for these individuals who support the market.
"Even though we aren't officially opened yet, we have Mac Miller fans come by every day," Dave Gancy said. "I make sure to say hi and chat with them. I started writing down their emails so I can let them know when we will have the grand re-opening. They have all been wonderful, and we are lucky to have their community supporting us."
As they look to the future, there is a lot to be excited about.
"Frick Park Market has already brought so much joy to both of us. We look forward to meeting everyone! David will be able to showcase his cooking. We want to be known for good food and products," Katie Gancy said.
Frick Park Market is hoping to reopen in October 2021.
Keep an eye out for pop-up events with snacks and treats in mid-September.