Back to News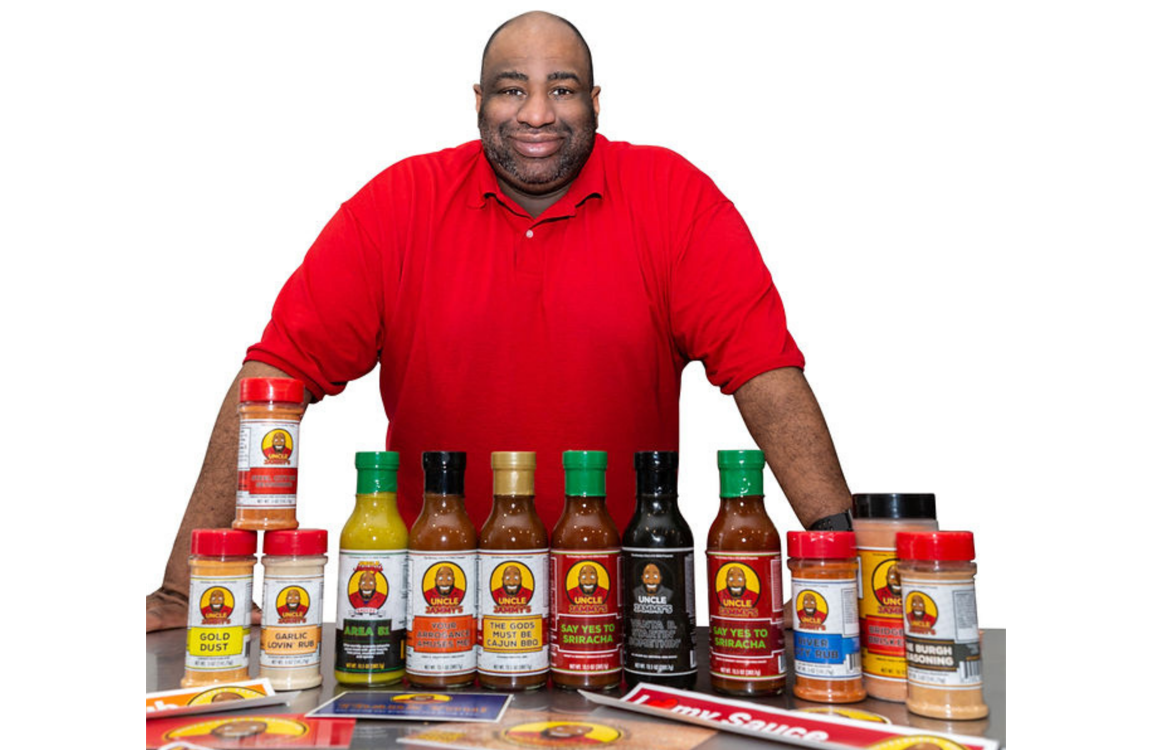 Business Spotlight: Smokey City's 412 BBQ Takes on a Summer of New Possibilities
September, 2021
Earlier this summer, GetGo released new sandwiches as part of their Great Summer of BBQ at several locations. One of these sandwiches was called Uncle Jammy's Chicken Sammy, and it featured a sauce created by a local business owner. The man behind the sauce is none other than Jamal Etienne-Harrigan, one of the URA's borrowers.
A hobby becomes a profession.
Etienne-Harrigan always had a passion for creation and food. He wasn't sure where this would lead him but he knew it was something he wanted to pursue.
"I was always enamored with tinkering," he said. "Messing around with recipes was definitely an area of interest to me. It piqued my curiosity."
It's what would end up pushing him to create The Smokey City's 412 BBQ LLC and Uncle Jammy's Sauces/Rubs. Although Etienne-Harrigan didn't pursue his business until 2012, he had been creating sauces since 2005.
"Sometimes you have to make a decision to go pro. It went from a hobby I loved to my profession," he said.
The Smokey City's 412 BBQ LLC started as a few sauces and rubs being gifted to coworkers and family friends.
"Even though I moved away from my family, I still felt a connection when starting this on my own. I come from a large extended family. There were always big meals. It was a big part of my start for me. I had these recipes around, but I didn't get a consistent stream of feedback," Etienne- Harrigan said.
The first major step forward was his transition to farmers markets.
"The Bloomfield Saturday Market was one of the first farmers markets where I started selling my sauces. It was really nerve-wracking because it was so different from selling to coworkers. These were people who didn't have to say something nice due to a connection with me. The entire process of going there, setting up the table, talking to new people, and receiving feedback was very different," he said.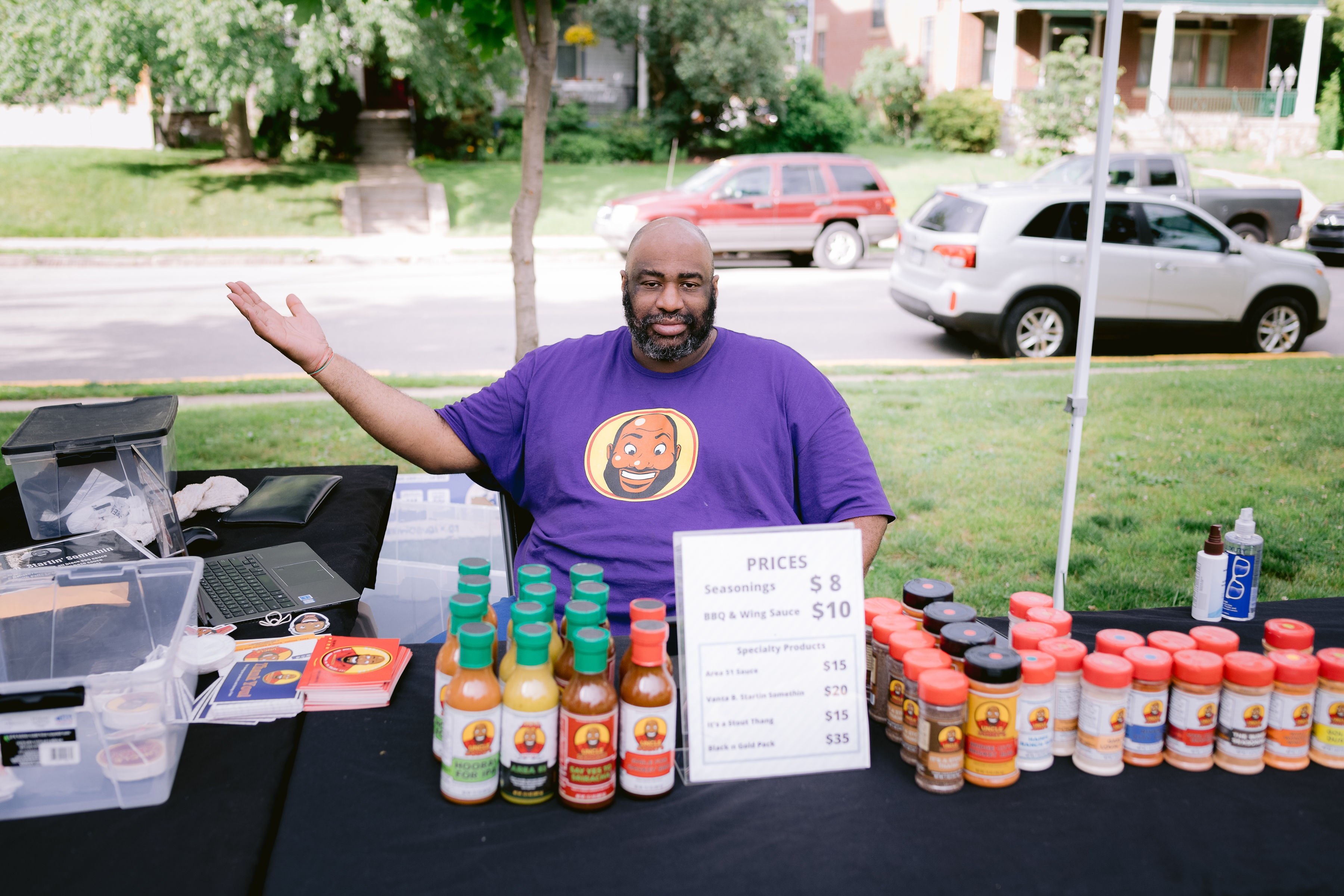 Sampling at events like this was a great way for people to test the products and for Etienne-Harrigan to get the feedback he wanted, and it was often followed by someone buying a bottle or rub.
Etienne-Harrigan was one of the first recipients of the URA's Micro-Enterprise Loan.
"Back in 2018, I really made an effort to learn more and grow my knowledge," said Etienne-Harrigan. "I spent a lot of this time with my good friend, Dennis Guy of First Sip Brew Box (also a URA borrower). I think my relationship with Dennis as a fellow entrepreneur really helped me. We went to a lot of meetings related to entrepreneurs and businesses together. During this time, I found out about the URA and I heard about the Micro-Enterprise Loan."
He then connected with Karlee Turkaly, the URA's senior lending analyst, to go through the Micro-Loan process.
Most recently, Etienne-Harrigan received a $100,000 loan from the URA's Minority Business Recovery and Growth Loan Fund. Part of this loan was used to help Smokey City's 412 BBQ LLC pursue an amazing opportunity with Giant Eagle and 267 of their GetGo locations. The agreement entailed a featured sandwich with Etienne-Harrigan's sauce, Hooray for IPA. (The Hooray for IPA sauce used was inspired by his friendship/partnership Dennis Guy and Southern Tier Brewery.) This promotion spanned across four states, including Ohio, Pennsylvania, Maryland, and West Virginia. Through the URA loan, Etienne-Harrigan was able to make nearly 12,000 12 oz. bottles and 100-300 seasonings for the GetGo partnership.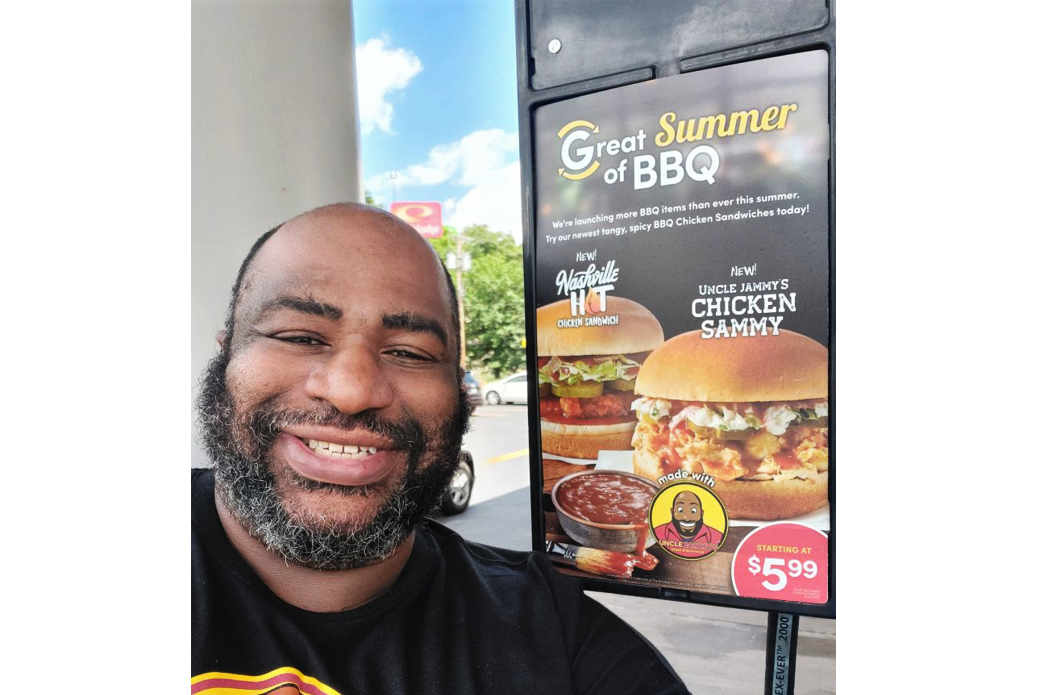 "Jamal has evolved and grown as a business owner. We believe in his business. He was one of the first businesses we lent to when we started the Micro-Loan program. The URA helped provide capital so Jamal could get ready for this opportunity with GetGo in a tight turn around period. This will help him with building up brand expose. We are excited to see what Jamal does," said Turkaly.
"I'm really happy I got the loan because it was a major part in being able to fulfill the GetGo order. It really allows me to reach out to wider constituency and expand the business," he added.
As the business continues to grow, Etienne-Harrigan realizes the importance of keeping some aspects of his business the same.
"I'm trying to keep it all-natural, by leaving high fructose corn syrup and preservatives out of the sauce. I care about the customers and am all about customer service coming first. I don't just put something in my sauces/rubs for no reason. I make sure it is the right fit for my products. It is what also showcases my commitment to unique offerings."
Etienne-Harrigan is also excited to pursue new ideas.
"I look forward to the future and expanding into different areas. I have always wanted to do pop-up events where I would make food. There is a lot to work with and I'm excited to try out these new possibilities."
Keep an eye out for Uncle Jammy's BBQ sauces and rubs near you. All locations are listed on the website here. You can also order directly through the website.
Hungry after reading this article? Check out some of Etienne-Harrigan's favorite pairings for his rubs and sauces here.
Follow Uncle Jammy's BBQ on social media!
Uncle Jammy's Sauces and Rubs at Local Giant Eagle Stores in Pittsburgh