Back to News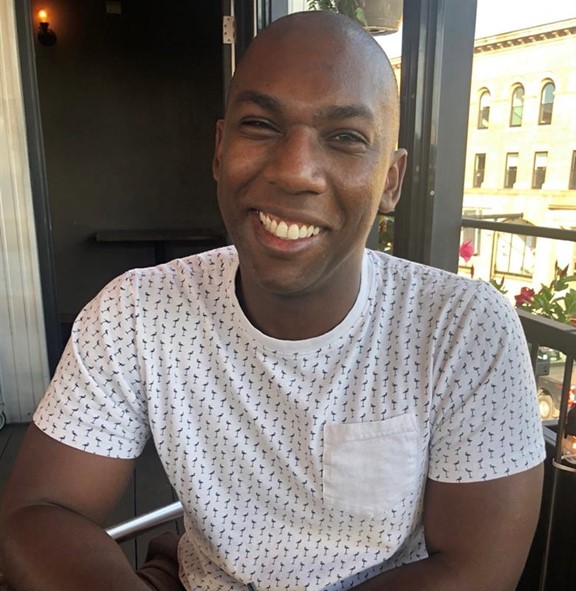 Get to Know: Marcus Robinson
June 2021
Job title:
Housing Compliance Analyst
What you actually do:
My primary role is to monitor and assist housing projects with meeting federal, state, and local regulations. I also manage the certification process for the Community Housing Development Organization (CHDO) program, process payoff and subordination requests, and analyze the lending portfolio.
Years at URA:
Just over 1!
Best thing about working at the URA:
Learning about new ways we can facilitate equitable and intentional economic development in the City of Pittsburgh
Favorite project/Most satisfying moment in career:
Organizing an informational event about the pardon and expungement process in Allegheny County and the City of Pittsburgh. Clearing one's record can open up employment opportunities, but the process for pardon and expungement is not the easiest to navigate. This event helped reduce the barriers to pursue pardon and expungement, providing tools and resources for interested individuals to use.
Education:
I studied Anthropology and Neuroscience at the University of Pittsburgh, and for graduate school I studied Public Policy and Management at Carnegie Mellon University
Where you were before the URA:
I was completing my graduate degree at CMU, and returning from an exchange semester at Delft University in the Netherlands.
If you were boss for the day:
I would give everyone an annual two-week vacation – we have all earned it!
If you weren't at the URA you'd be...
opening a neighborhood restaurant and bakery.
First job:
I worked at the Leaky Cauldron as a Busser (Wizard) at the Wizarding World of Harry Potter
Favorite Pittsburgh spot:
Schenley Park Overlook – a beautiful spot for a picnic, summer/fall read, and view of Downtown!
Favorite restaurant:
Depending on the occasion/craving: Azorean Café for a phenomenal Portuguese/Azorean meal during breakfast/early lunch, Cilantro & Ajo for an amazing arepa during lunch, Alta Via for a delicious Italian dinner, and Sugar x Butter for cookies and cakes!
What you like to do when not at work:
Similar to everyone else during the pandemic, I decided to start baking bread and growing a garden. I enjoy (trying to, at least!) baking rolls and sourdough loaves, and tending to my vegetable and herb garden.
Secret vice:
French fries, mint chocolate chip ice cream, and Kylie Minogue
What three words describe you best:
Thoughtful, earnest, and witty
What you are currently watching on Netflix:
Underground Railroad on Amazon – based on the book by Colson Whitehead and adapted and directed by Barry Jenkins, the series follows two African Americans as they escape to freedom and stop in various towns along the Underground Railroad. This series uses magical realism to explore the trauma of slavery but also the lingering effects throughout American history.
What song do you have on infinite repeat?:
Soul Control by Jessie Ware
Three favorite foods or three things always in your refrigerator:
Garlic, blueberries, and chicken breasts
Three people (living or dead) you would like to have dinner with:
Vanessa Williams, Kacey Musgraves, and Sterling K. Brown
Actress who would play you in a movie:
Leslie Odom Jr.
People would be surprised to know that I...
never saw snow until I moved to Pittsburgh in 2013!
Family:
I am the oldest with two younger siblings, and grew up in Oviedo, Florida. My parents are from the South Side of Chicago and grew up blocks away from each other, but didn't meet until they went to Prairie View A&M for electrical engineering!
Pets:
A lovely senior puppy named TJ!
Contact Info:
mrobinson@ura.org and 412.255.6654
Marcus as a child