Back to News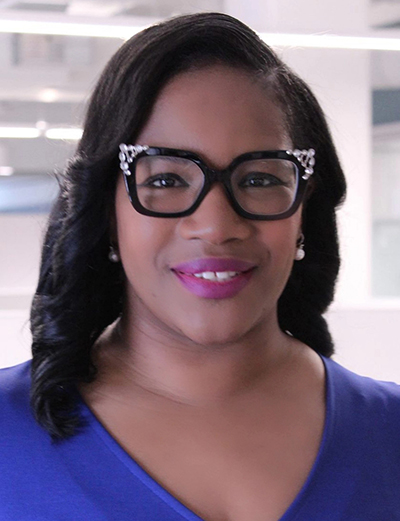 Urban Redevelopment Authority Announces Departure of Deputy Executive Director Dr. Diamonte Walker
March 25, 2022
PITTSBURGH, PA (March 25, 2022) The Urban Redevelopment Authority of Pittsburgh (URA) announced today that Deputy Executive Director Dr. Diamonte Walker will depart the organization in spring 2022 for a new opportunity in the private sector.
Dr. Walker began her career at the URA in June 2017 as the Minority and Women-owned Business Enterprise (MWBE) program officer. During her five-year tenure, Dr. Walker was a driving force behind the URA's growth and success as an organization and its strategy to empower people while transforming place. Through her work, the URA's MBWE program was expanded and spurred opportunities for growth and capacity building for MWBEs in Pittsburgh. She also established partnerships with influential corporations, nonprofit and community organizations, government agencies, and community stakeholders to create a more equitable city.
In November 2019, the URA appointed Dr. Walker as its Deputy Executive Director, making her the first Black woman to hold the position in the organization's nearly 80-year history. In this role, she shaped the emergence of a new strategic vision and direction for the URA and renewed the organization's commitment to adopting a more community-centered focus while addressing the city's protracted economic development challenges.
"Dr. Walker will be profoundly missed in her role as Deputy Executive Director of the URA," said Mayor Ed Gainey. "Her vision helped reshape the URA and helped to transform it into an organization that puts the residents of our great city first. I want to thank her for her leadership and look forward to working with her in the future."
Dr. Walker's accomplishments also include:
Drove URA's digital transformation to increase organizational efficiencies, reduce paper waste, streamline organizational processes, and enhance URA internal operations to improve external customer experience;


Increased access to business opportunities and lending support for small and minority and women-owned businesses through the development of programs such as the  Micro-Loan Program, Catapult: Startup to Storefront, and social impact investment pilot programs;


Created innovative models for equitable development in alignment with community plans such as the revitalization of Centre Avenue which advanced community-driven redevelopment proposals and oversaw the URA's purchase of Centre Heldman Plaza to attract a grocer to the Hill District neighborhood;


Created and advanced equitable community development and economic inclusion initiatives such as the Neighborhood Initiatives Fund and Avenues of Hope;


Advanced the Lower Hill Redevelopment to produce public benefits for the Hill District community;


Helped to establish the Housing Opportunity Fund to increase and preserve affordable, safe housing for the City's most vulnerable residents;


Reinvigorated the Pittsburgh Housing Development Corporation's strategy to increase affordable homeownership opportunities and generational wealth building;


Led the Pittsburgh Land Bank (PLB) to move towards incorporation and become fully operational and strengthened the PLB's equitable land use strategy;


And provided strategic oversight of programs to assist struggling residents and small businesses and position Pittsburgh for long-term economic recovery during the COVID-19 pandemic and economic crisis.


"Dr. Walker's innovation, leadership, and strategic thinking will guide the URA well into the future," said URA Board Chair Kyle Chintalapalli. "Her vision for the URA impacted the lives of the people of Pittsburgh, she helped to expand safe and affordable housing in our city, and she fought to make sure our small businesses had the resources they needed to recover during the COVID-19 pandemic."
Dr. Walker also served as the Executive Director of the Pittsburgh Land Bank; as CEO of Invest PGH; and served on the Housing Opportunity Fund Advisory Board.

"Dr. Walker's invaluable, community-centered leadership will be greatly missed by the staff, URA Board, and community partnerships established during her time at the URA," said URA Executive Director Greg Flisram. "She approached economic development by building up people first, centering efforts to improve quality of life for all Pittsburgh residents, and ensuring everyone had access to tools and resources necessary to be a part of Pittsburgh's economic resurgence.
"In addition, Dr. Walker deserves major credit for helping transition the URA from being a conventional 'top-down' economic development organization, to one that addresses the needs and challenges of families and neighborhoods from the ground up. We look forward to crossing paths with her frequently in her new role," said Flisram.
Dr. Walker is leaving the URA to be the founding Chief Executive Officer of a program to end the cycle of poverty by promoting post-secondary education and comprehensive support services for single parents and their children. The partnership and support of the URA will be integral in its success and both organizations view Dr. Walker's hire as a win for the City of Pittsburgh.
Dr. Walker's final day with the URA will be on April 14, 2022.
Dr. Walker's bio can be found here.
###


About the Urban Redevelopment Authority of Pittsburgh (URA)
The URA is the City of Pittsburgh's economic development agency, supporting the City's economic development goals, which are designed to create a city of inclusive opportunity for residents, stakeholders, and communities. The URA is committed to creating more housing that is affordable to the average Pittsburgher; encouraging more entrepreneurship and small business development; promoting inclusive growth and quality job creation; expanding neighborhood and main streets revitalization efforts; and developing a talented workforce that is equipped with the skills of the future.