Back to News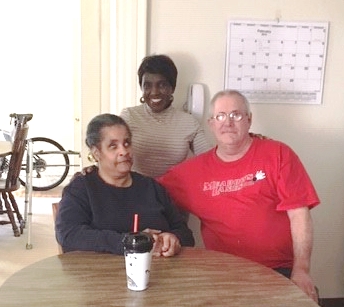 Housing Programs: Far from Just Financing
March 4, 2019
Jefferson and Shannon Starkey have lived in their house on the Northside for nearly 25 years. Over that time, they've been able to utilize a number of the URA Housing Department's consumer loan programs to help them with everything from a sump pump and basement repairs to building a ramp and repairing their driveway and outside wall.
In December 2016, the Starkeys received a URA Pittsburgh Home Rehabilitation Program (PHRP) loan to make additional improvements to their home.
The PHRP offers a 0% interest rate loan to eligible City of Pittsburgh homeowners to improve their homes. It is an extremely affordable program designed to help maintain the city's older housing stock. If eligible, you may borrow up to $25,000 for a single-unit home and $35,000 for a two-unit home. Borrowing limits are higher ($35,000 and $45,000 for a one-unit and two-unit home respectively) if you perform certain energy efficiency improvements. Grants are also available (up to certain limits) for exterior improvements, handicapped accessibility improvements, lead based paint abatement, and public sidewalk replacement.
"One of the things that I love about doing my job is being able to assist homeowners with making their homes more livable," said URA Housing Program Officer Jarmele Fairclaugh.

"Mr. and Mrs. Starkey made the closing process so easy; I went to their home to do the closing. I explained what documents they would be signing and answered any questions that they had. We laughed a lot. It was so nice to meet and work with such a wonderful couple. Every week or so Mr. Starkey will call just to say hello."
Through our home financing programs, the URA helps hundreds of Pittsburgh homeowners create the dwellings of their dreams. Our assistance extends far beyond financing, as URA staff helps the homeowners identify contractors, develop project scopes of work and assure that all tasks are completed in a workmanlike fashion. The experience the Starkeys had illustrates the extra assistance and support the dedicated staff at the URA provides.
"I met with the Starkeys at their home to go over the details of the loan program and review, explain and help them fill out the application," said Fairclaugh, who worked with the couple on this loan and a previous one. "Once they were approved, the URA's (now retired) Senior Construction Advisor Bill Figura walked with them through their home and advised them on which improvements to make to best suit their needs and make their home work better for them, as the couple is vision-impaired."
These improvements included insulation work in the basement, grout work and painting. They also had a tree removed that had been leaning in the backyard. The URA's Construction Manager Larry Landy assisted to ensure quality in the work that was done.
"Everything went according to plan, we had no problems with the construction that was completed, they (contractor and staff) were on time, and we enjoyed the work," said Mr. Starkey. "We appreciate everything [the URA has] done for us, now and in the past."
The Starkeys' experience is just another example of how the URA makes a positive impact on the lives of City residents.
Housing consumer Programs Accomplishments 2014-2018
• 388 loans/grants
• 406 total units assisted
• 345 affordable units assisted
• $7.5+ million URA investment
• $7.7+ million total investment
Fast Fact - The URA's Housing Department offers: 0% interest loans to fix up a home or make emergency repairs to correct health and safety hazards; grants to homeowners to make accessibility improvements; and an all-in-one mortgage and rehabilitation program.
What We Do
The URA Housing Department provides a wide range of services to support the purchase, renovation and/or development of housing units in the City of Pittsburgh with a particular focus on affordable housing. These efforts work to stabilize and transform neighborhoods, preserve the City's housing stock, provide a range of housing options for City residents, improve quality of life and protect affordability for Pittsburgh residents, leverage private investment and increase the City's tax base.
These services include:
Gap financing to support the development of catalytic new and/or substantially rehabilitated for-sale or rental housing units


Consumer products to provides grants, low interest loans and technical assistance to City of Pittsburgh homeowners for the acquisition and renovation of owner-occupied structure


Project management for large scale community development efforts such as the East Liberty-Larimer Choice Neighborhoods project


Staffing to URA housing development affiliate – Pittsburgh Housing Development Corporation which works with community-based organizations to provide real estate development capacity and technical assistance in neighborhoods not served by a community development corporation


Housing development Accomplishments 2014-2018
• 78 loans/grants
• 1,840 total units assisted
• 1,076 affordable units assisted
• $106.5+ million URA investment
• $452.8+ million total investment
To read more about the URA's Housing Department and all of the programs and loans available to City of Pittsburgh residents, click here.
---